Corn: US Crop Downgrade
The USDA's June WASDE was clearly bullish for the corn market, with US corn output cut by more than expected, following delayed plantings. Given expectations for drawdowns in stock this year and next, we remain constructive on CBOT corn.
Planting delays
Heading into 2019 US plantings, many in the market had a bearish outlook for corn, with the US planted area set to increase as farmers switch from soybean to corn as a result of the ongoing trade war and the Chinese-imposed tariffs on US soybeans. However, looking at the price chart, it is clear that this has not gone to plan, with corn prices having rallied as much as 27% since early May. Heavy rainfall in the US Midwest has meant that farmers have struggled to plant corn in a timely manner, with plantings lagging significantly behind historic norms. These late plantings do raise concerns over yields for the 2019/20 crop, and in this week's WASDE report the USDA took the opportunity to slash its yield forecast from 176 bu/acre to 166 bu/acre, leaving it well below the 5 year average of 173 bu/acre. This has seen their production estimate for the season fall from 15.03b bushels to 13.68b bushels- a more significant reduction than most were expecting in the lead up to the release, and if realized would also mean that the US will see its smallest corn harvest since 2015/16.
US percent of normal precipitation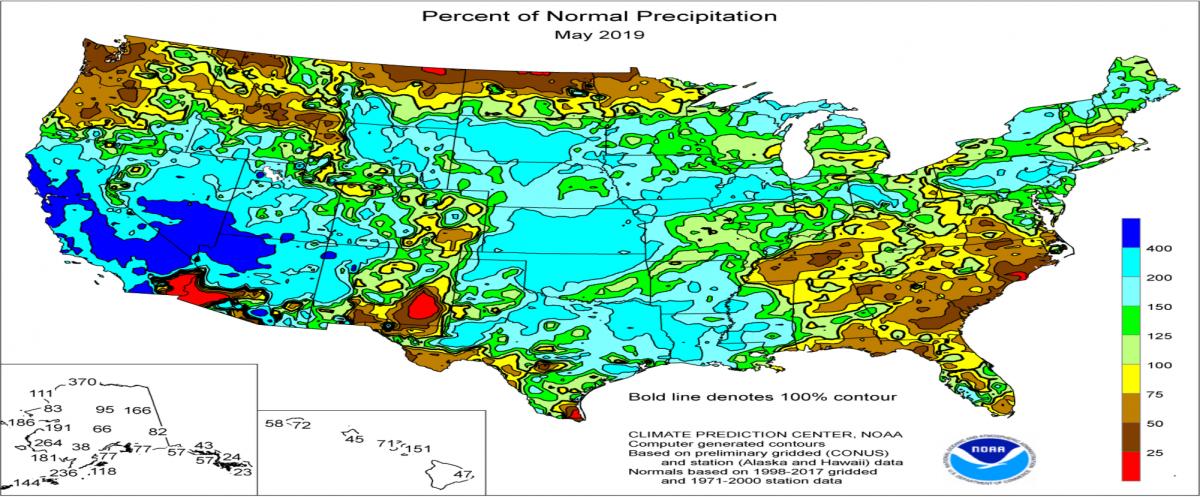 Source: NOAA
US corn planting progress (%)
Source: USDA, ING Research
Tightening balance
A smaller US harvest does mean that domestic ending stocks are set to decline quite substantially over the 2019/20 marketing year. The USDA is forecasting that we go into 19/20 with 2,195m bushels of stock, however, expect that stocks will end the season at 1,675m bushels, the lowest since the 2013/14 season. Looking at the stocks-to-use ratio it is forecast to end the 19/20 season at just 13.8%, down from an estimated 18% in the current season, and the lowest STU since the 13/14 season.
The information does not constitute investment recommendation, and nor is it investment, legal or tax advice or an offer or solicitation to purchase or sell any financial instrument. more