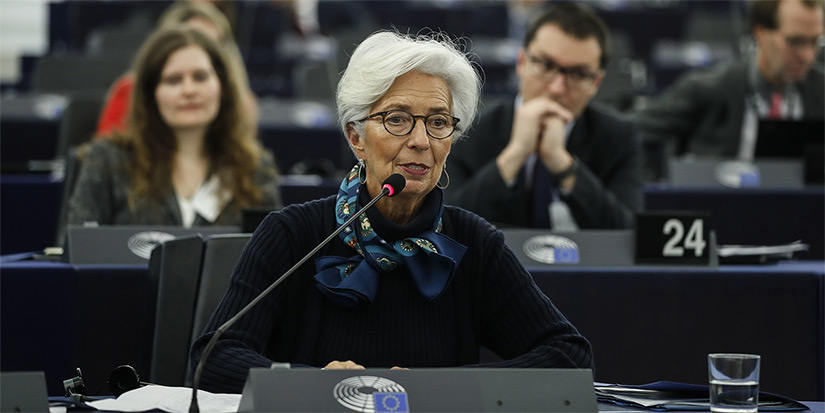 If time is money, then interest rates are the price of time. The most important interest rates in the world are for US Treasury securities. This is why I've long said it makes no sense for a committee to set those rates. The markets could do just fine without that help, thank you. But the Federal Reserve's Open Market Committee arbitrarily decides the overnight Federal Funds rate. And lately, it doesn't stop there.
Like the proverbial frog in a boiling pot, we are slowly being conditioned to accept this as normal. The warm water feels good at first. We think we can hop out in time. It's not clear we can. And it's not just the Fed. Central banks all over the world are turning the heat up on the various currency pots.
Today I want to discuss an arcane-sounding but incredibly important term you need to know: Yield Curve Control. Several central banks are already using it and I see a strong possibility the Fed will join them. But first we must again consider the Gripping Hand.
Brief Update on the COVID-19 Gripping Hand
Currently, we see good news. Cases, hospitalizations, and deaths are falling across the developed world, with a few exceptions. This is partially because a large number of people have already had the virus (usually mild cases), we are vaccinating the most vulnerable people at a better rate, and we are continuing to socially distance and use masks.
I am sure that everybody wants this trend to continue. However, it is too early to give the all-clear signal, as the UK variant (B117) has spread throughout the United States and much of the developed world. It is a race between vaccine-induced herd immunity and the growing rate of B117 infections. The South African and Brazilian variants are in the US, but in smaller numbers (so far).
The bad news is that Israel and some other countries that have been extraordinarily successful in vaccinating their people are still seeing significant outbreaks. From what I've read, we should know in the next few weeks if we will face another round of outbreaks. So the best advice is get your vaccine, continue to social distance and stay safe, and hope for the best.
Now on to yield curve control.
Blunt Instruments
The Federal Reserve System has two mandates from Congress: maximum employment and price stability. It has rarely achieved both at once, and it certainly isn't doing so now.
(Quick note on jobs: Interest rates are not the appropriate tool for promoting employment. Fiscal policy is. The recent jobs report was ugly. Most of the very mild growth came in public education, with just 6,000 jobs in the private sector. Another 406,000 people dropped out of the labor force, keeping the unemployment rate artificially low. The broader U-6 rate is over 11%, which is more real-world. Low interest rates aren't helping businesses hire employees. The Fed really can't help boost employment.)
However, these twin goals are vague enough to let the Fed's board and staff think they're succeeding at times. This is the source of many problems. Thinking you are in control of something when you are actually not can be quite dangerous.
For such a powerful institution, the Fed is still surprisingly limited. It can't force banks to lend, nor can it force people or businesses to borrow. It can highly encourage these things, though, and has many ways to do so. Most of them involve short-term liquidity and interest rates—the so-called "short end" of the yield curve.
What is the yield curve, you may ask? It's simply a chart of how interest rates rise or fall by the loan's length, or maturity. A "normal" yield curve looks something like this: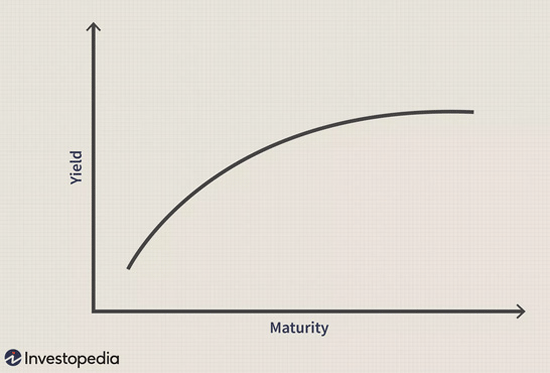 Source: Investopedia
To put some numbers to this, here are the actual yields for the past week (Monday through Thursday) for the various Treasury maturities. Note that interest rates out to two years are only 11 basis points or less. The curve doesn't "steepen," if we can call it that, until after the five-year point.

Source: GuruFocus
Disclaimer:The Mauldin Economics website, Yield Shark, Thoughts from the Frontline, Patrick Cox's Tech Digest, Outside the Box, Over My Shoulder, World Money Analyst, Street Freak, Just One ...
more