China Has No Choice
In those early years of it, authorities stuck to mostly OMO's. There were only two RRR increases, in the beginning, an experiment, too, of sorts. The Chinese central bank was new to this potential liquidity framework and the last thing they wanted was to do too much.
As the middle 2000s progressed, and "hot money" eurodollar inflows only intensified, a more aggressive campaign was called for. By the middle of 2006, RRR increases became as regular as OMO's.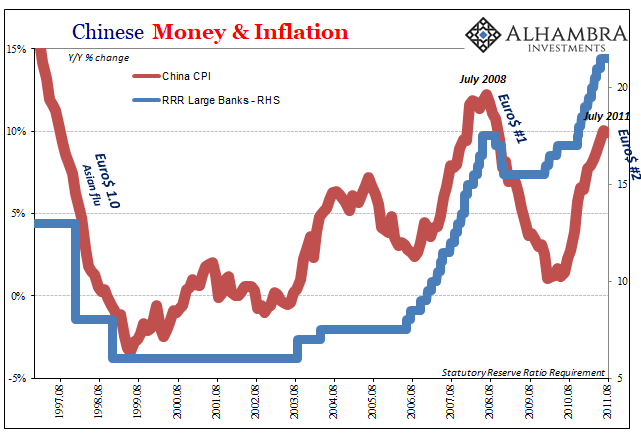 The thing is, these didn't really work all that well individually or in combination(s). There were several reasons for the lack of control, including the bureaucratic structure of China's official apparatus, government to central bank and back again.
But most of all, RRR and/or OMO's are blunt instruments of indeterminate pathologies. Exactly how does a 50 bps increase in the RRR effect a Chinese bank's proclivity to lend? No one really knows but a higher reserve requirement does sound a lot like tightening.
As you can see above, China's economy came to be plagued by high inflation anyway, especially damaging food price inflation. The country's CPI suggested still the deflationary drag at the end of 2002, a decrease of 0.4% in the month of December 2002, but rising to a breakout +3.2% in December 2003.
It had at first seemed like the OMO's were working, with inflation rates falling in the middle of 2005 before another sharp surge which triggered the aggressive response relying more on the uncertain RRR mechanics. By early 2008, despite the RRR having been pushed as high as 17.5% (for large banks), consumer price inflation was rampant the CPI reaching 8.5%. Food prices were rising by more than 20% per year.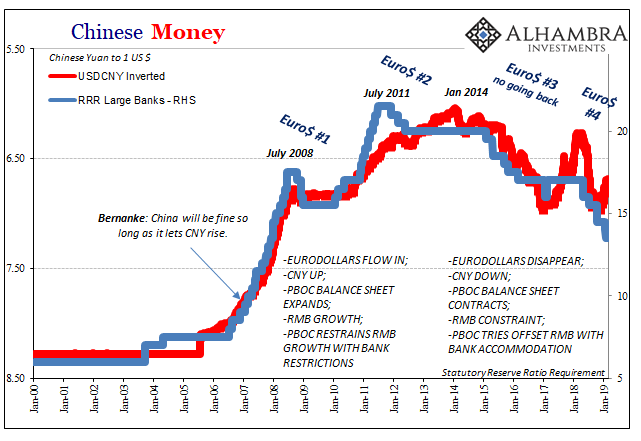 The only thing that stopped the onslaught was Euro$ #2. The Global Financial Crisis of 2008, Euro$ #1, had been a temporary reprieve before the same massive money imbalances revisited China in its immediate aftermath. The RRR was pushed up to as much as 21.5% before the second global deflationary wave finally erased its momentum.
Disclosure: This material has been distributed for informational purposes only. It is the opinion of the author and should not be considered as investment advice or a recommendation of any ...
more