Chapter 2 In The RRP Fairy Tale
I wrote on October 1, 2014, that the RRP was a "fairy tale":
"We don't exactly know how it will work" should be stamped upon every message coming from the policymaking apparatus from this point forward, and then retroactively applied to every message in the age of risk and rate repression. Action in short-term money markets has heated up yet again, and that is not a positive statement toward vital function…

The reverse repo program was supposed to provide "aid" toward establishing a hard(er) floor for rates. It obviously failed with the persistent spikes in repo fails, which denote effective repo rates at something between 0% and -3% (and closer to the latter than the former). Collateral, that interbank currency, is not getting out of the Fed "silo" (its vast SOMA holdings) to conduct business as needed.
The conclusion of that piece should be recognizable today:
If the system does not function as intended now, under if not ideal circumstances than certainly far from stressed, how is it going to perform under real strain and duress? Might that be a significant factor that is beginning to wind its way into the larger dollar system, the venue of the global dollar short? This bears repeating, maybe even included after the perpetual warning I asserted above, that liquidity is not what is evident right now, but what is expected when the things are really going wrong. "We don't know exactly how it will work" is a hell of a liquidity program for that eventuality.
It is reasonable and fair to say that we have now arrived at "that eventuality" and the RRP is functioning now just like it did then; and that's a huge problem. Just ask China.
I think it is repo, more than anything, that puts the spotlight on the Asian end of the "dollar." We already know that collateral must be short outside the domestic system (the "other" RRP, the foreign "accommodation", as I have been highlighting behind the paywall, is in overdrive) and that general unsecured liquidity (LIBOR) offshore is elevated at a curiously high spread. But repo GC rates in their highly unusual positive spread to whatever part of the federal funds corridor only seems to happen when China is in great disarray (is China the cause or the effect? I have little doubt the latter).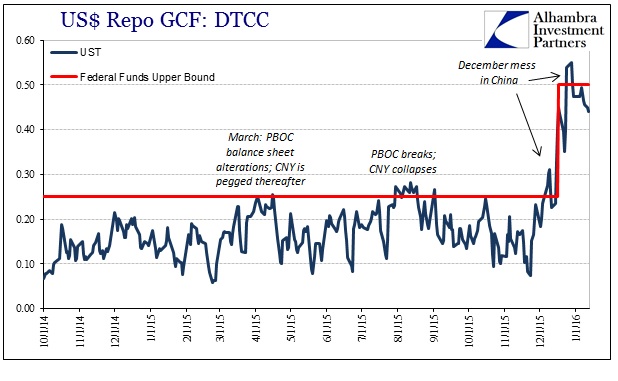 What you notice just in glancing at the chart above is the regularity of these repo spikes after March (as processes or intermediate trends rather than individual, daily prices). It is something I have noted beforeas the tell-tale signs of PBOC deployment of wholesale factors of whatever derivative form(s). The connection to US$ repo from any potential PBOC forward at maturity is the simple act of borrowing "dollars" to "replace" what the central bank already sold into the market (to calm it then without regard to what it might look like at maturity).