Central Banks' Gold-Buying Spree Reaches 50-Year High
Gold is poised to close out January with a fourth straight monthly gain after the Fed's uber-dovish flip-flop seemed to signal that it's done raising interest rates (reportedly for a while but that's never happened before)...
The Fed have never, ever "paused" a full hiking cycle. The always end up cutting. Each cutting cycle has led to a recession except mid 1990's and 1987. Odds are in favour of the Fed having gone too far already and the stock market figuring it out in due course...

— Raoul Pal (@RaoulGMI) January 30, 2019
Which has hurt the dollar, helping gold to its sixth January gains in a row as investors sought a haven against slowing growth and U.S.-China trade disputes.
(Click on image to enlarge)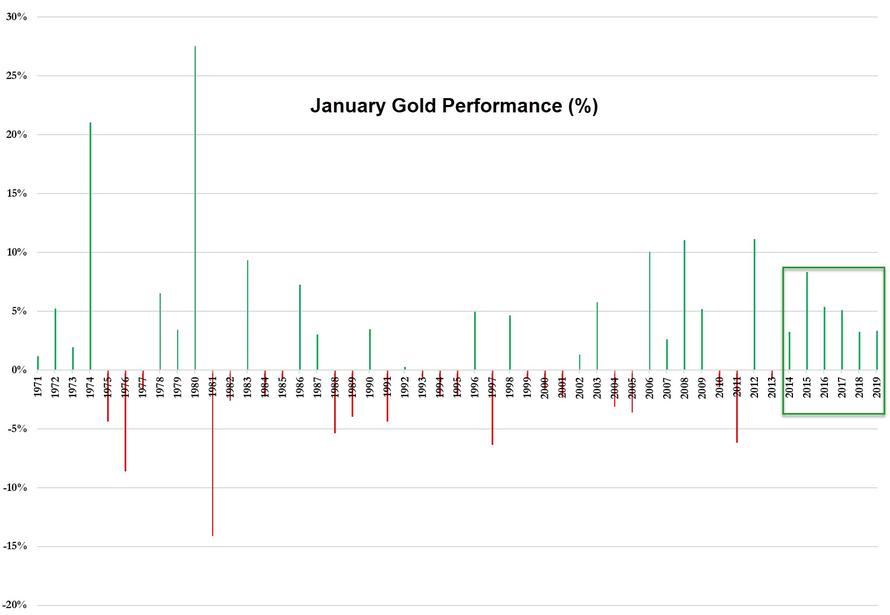 While short interest in GLD (Gold ETF) has soared along with price...
(Click on image to enlarge)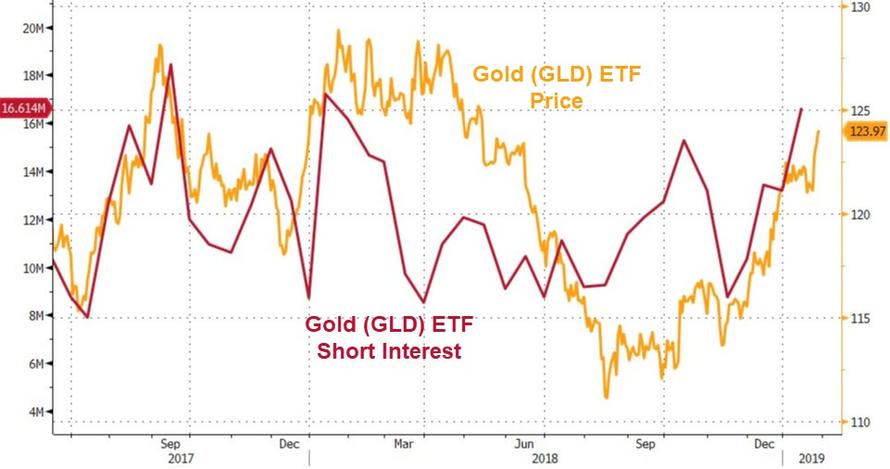 Bloomberg survey results show a decidedly positive bias on the precious metal (Bullish: 13 Bearish: 2 Neutral: 2)
If the Fed's rate-hike cycle really has come to an end for now, the sooner-than-expected dollar weakness may help gold to "rise more quickly and more sharply," Commerzbank said in a note.

"Both the tone and language of the Fed statement and presser appeared more accommodative versus consensus expectations," Citigroup Inc. analysts including Aakash Doshi wrote in a note. "To take advantage of an ongoing gold market rally, investors might consider positioning for upside."

"Gold is benefiting from a lower dollar in general, as well as safe-haven buyers hedging against the outcome of the U.S.-China trade talks," Jeffrey Halley, senior market analyst at Oanda Corp. in Singapore, said in a note.
Still, there's no guarantee gold will keep appreciating at the same pace.
Ole Hansen, head of commodity strategy at Saxo Bank, said by email. While the bank maintains a bullish view on gold, "some caution may now be warranted," he said.

"With stocks rallying and emerging market assets receiving a boost, the buy-gold story has faded, at least for now," Hansen said.