Catalyst Check: Natural Resources Watchlist At Three Months
At the Cambridge House Canadian Investment Conference in June, The Gold Report Publisher Jason Mallin asked a panel of experts picking a portfolio of stocks with upside potential for the 2014 Streetwise Reports Natural Resources Watchlist what they wanted to see in an equity. As always, Sprott US Holdings Inc. CEO Rick Rule, summed up the ideal beautifully. "We like reality at a discount," he said. Now that three months have passed, we decided to check in with Rick and co-panelists Joe Mazumdar from Canaccord Genuity and Keith Schaefer from Oil & Gas Investments Bulletin to see how that reality is playing out. You can always check the portfolio in real time at the Portfolio Tracker.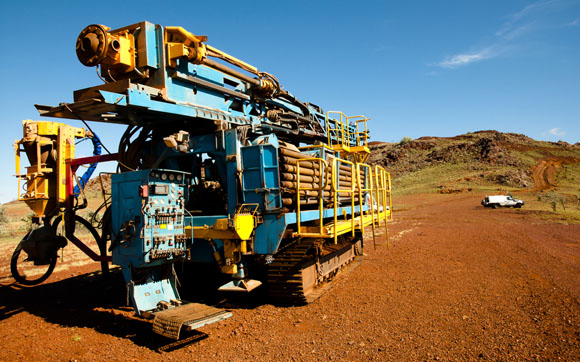 The Gold Report: Joe, some of your picks from the Natural Resources Watchlist have performed quite well. Do you want to give us some updates?
Joe Mazumdar: Junior mining sector equities in the gold space, as proxied for by the Market Vectors Junior Gold Miners ETF (GDXJ:NYSE.MKT), have outperformed gold since the June Cambridge House conference. The inter-period high for gold was $1,335–1,340/ounce ($1,335–1.340/oz), about a 7% return. Gold is down about 3% since the conference, on the back of a strong U.S. dollar.
The benchmark Market Vectors Junior Gold Miners ETF experienced an inter-period high of about $45/share, generating a 30%+ return since the conference. But it is currently flat again. On both metrics, the ETF has outperformed the gold price. Our selections averaged an inter-period high of 50%, which included underperformers (+18–26%) and some significant outperformers (+70–115%). Currently, the average return for our selection since the conference is a more modest 14–15%. [NOTE: Figures cited were current 9/30/14.]
TGR: During that panel discussion, you called explorers a lottery ticket and Cayden Resources Inc. (CYD:TSX.V; CDKNF:OTCQX) was a lottery ticket that paid off. What was your other "lottery ticket" pick?
Cordoba Minerals Corp.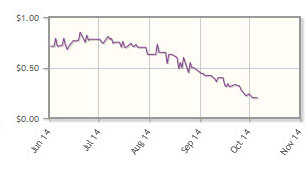 JM: Exploration stories tend to be for the more risk-tolerant investors, potentially an "educated" guess rather than a lottery ticket. Our other exploration story was Cordoba Minerals Corp. (CDB:TSX.V). Cordoba Minerals underperformed, both with respect to inter-period highs (+18%) and current return (-54%) since the June conference. A diamond drilling program (2,000 meters [2,000m]) began at the San Matias copper-gold project in Colombia in mid-July 2014, targeting anomalies from a 5,000m, shallow hole, rotary air blast (RAB) drill program. Results are still pending. The only reported results were from RAB drilling at the Costa Azul prospect, which returned 19m grading 0.74 grams/ton gold (0.74 g/t) and 0.32% copper in early August 2014.
Downward pressure on the stock is, in part, due to the lack of news flow. We consider this to be a long-term exploration play, seeking to prove up a cluster of gold-rich porphyry systems that have returned up to 101m grading 1.0% Cu and 0.54 g/t Au from previous drilling. In terms of infrastructure, its location in the northern part of Colombia, at a low elevation with two operating open pit mines located nearby and abundant roads, ports and power, is also attractive.
TGR: What about the more developed picks you have under coverage? The Watchlist was all about catalysts. Did these companies hit their catalysts or is there good news to come?
Roxgold Inc.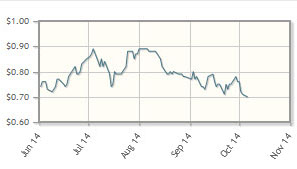 JM: Roxgold Inc. (ROG:TSX.V) is well financed to production at its Yaramoko gold project in Burkina Faso, West Africa, expected by the first half of 2016. The catalysts are a blend of milestones from derisking its development timeline and quantifying the upside on its substantial land package. The company has managed to deliver on both fronts since the conference.
With respect to the development timeline, Roxgold derisked some of the financing, technical and execution risk by securing a US$75 million (US$75M) project debt facility, having its environment and social impact assessment approved, and awarding the underground mining contracting to a reputable firm with relevant underground experience in West Africa. Also, on the exploration front, the drill program at Bagassi South intersected 39.6 g/t gold over 4.5m. We believe Roxgold will continue to quantify the upside on its land package.
DISCLOSURE: JT Long conducted this interview for Streetwise Reports LLC, publisher of The Gold Report, The Energy Report, The Life Sciences ...
more