Is Career Education Corp. A Strong Buy?
Our leader for today is Career Education Corporation (CECO).*
Career Education Corporation is a provider of private, for-profit post-secondary education with campuses throughout the United States and Canada, the United Kingdom and the United Arab Emirates. Their schools enjoy long operating histories and offer a variety of master's degree, bachelor's degree, associate degree, and diploma programs in career-oriented disciplines. They offer educational programs principally in the following four career-related fields of study, Visual Communication and Design Technologies, Information Technology, Business Studies, and Culinary Arts.
Recommendation: We continue with our STRONG BUY recommendation on Career Education Corporation for 2016-11-29. Based on the information we have gathered and our resulting research, we feel that Career Education Corporation has the probability to OUTPERFORM average market performance for the next year. The company exhibits ATTRACTIVE P/E Ratio and Momentum.

*Note: CECO is currently third on our top STRONG BUY list. But the top-two firms--SSRI and TIVO--were recently profiled in our bulletins so today we are providing data on CECO.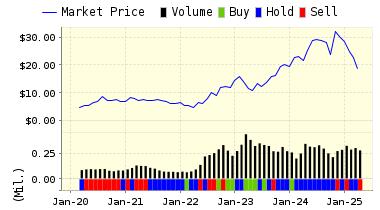 ValuEngine Forecast

Target
Price*

Expected
Return

1-Month

10.11
1.34%

3-Month

10.51
5.33%

6-Month

10.98
10.04%

1-Year

11.59
16.16%

2-Year

13.42
34.43%

3-Year

14.34
43.73%
Valuation & Rankings

Valuation

73.16% overvalued

Valuation Rank

4

1-M Forecast Return

1.34%

1-M Forecast Return Rank

100

12-M Return

136.49%

Momentum Rank

96

Sharpe Ratio

-0.21

Sharpe Ratio Rank

35

5-Y Avg Annual Return

-16.16%

5-Y Avg Annual Rtn Rank

27

Volatility

77.41%

Volatility Rank

20

Expected EPS Growth

-91.12%

EPS Growth Rank

3

Market Cap (billions)

0.67

Size Rank

59

Trailing P/E Ratio

6.33

Trailing P/E Rank

98

Forward P/E Ratio

71.29

Forward P/E Ratio Rank

5

PEG Ratio

n/a

PEG Ratio Rank

n/a

Price/Sales

0.77

Price/Sales Rank

75

Market/Book

2.59

Market/Book Rank

43

Beta

2.21

Beta Rank

9

Alpha

0.64

Alpha Rank

95