Can Tariffs Bankrupt Americans?
Tariff inflation pic.twitter.com/o1PHgJ6gDQ

— Nick (@NickatFP) May 13, 2019
Goldman Sachs estimates that if these tariffs on China, plus tariffs on imported autos are implemented, inflation will increase 0.9%. Trump is negotiating with Europe and Japan on a trade deal as well. Reports are showing it's likely the May 18th deadline to make a decision on auto tariffs will be postponed. It doesn't make economic sense to take a 'no holds barred' approach to negotiating with Japan and Europe with the trade war with China heating up quickly. The chart on the left shows the huge jump U.S. tariffs would take if there is a 25% tariff on all Chinese goods and tariffs on auto imports.
The Reason Behind The Trade War With China
President Trump has targeted China not just because it is the nation America has its biggest trade deficit with. He has targeted China because of its alleged violation of intellectual property laws. This alleged violations and China's willingness to back out of a deal are why it has been tough to make one even after a couple years. As you can see from the chart below, 80% of all the counterfeit and pirated goods in the world come from China and Hong Kong.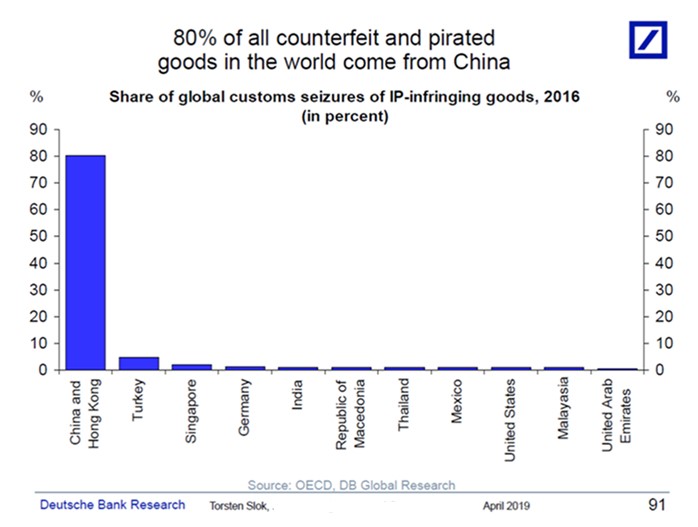 China isn't in the catbird's seat (advantage) where it can just stop buying treasuries and let America fail. It relies on America to buy its products. Neither side wants to be too aggressive because they need each other economically and because an actual war would be devastating.
As we mentioned, China is has been alleged to infringe on American intellectual property by making counterfeit and pirated goods. As you can see from the chart below, almost 25% of seizures of counterfeit goods are infringing upon American intellectual property.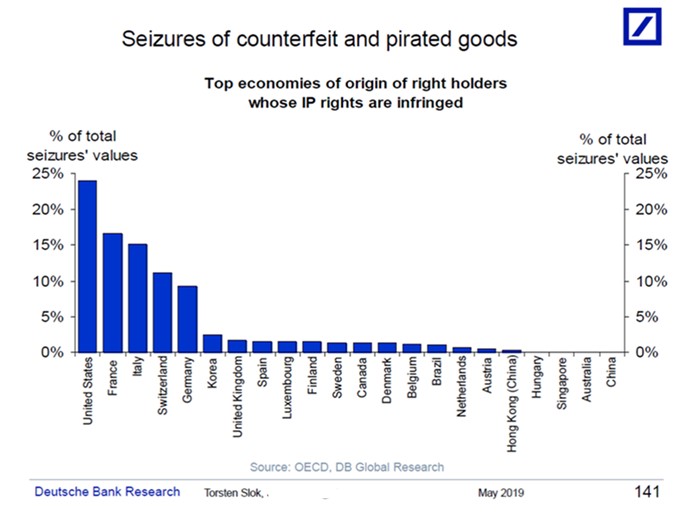 China and Hong Kong, according to this chart, steal the most and America gets stolen from the most. China and America are naturally on the opposite side of the discussion. It's not a surprise America is the one initiating tariffs on China.
Disclaimer: Please familiarize yourself with our full disclaimer here.