Can Joe Biden 'Heal' The United States?
These tents overlap, and many Americans have walked from one tent to the other. Trump won more Black and Latino votes than any Republican in 60 years. But millions of evangelicals he won in 2016 voted this year for Democrats, including Biden. There have been notable rifts among Republicans, and a significant coterie of high-profile GOP party members supported Biden.
Across the political spectrum, American voters say they want the president to be a uniter rather than a divider. In October 2020, 89% of Biden backers and 86% of Trump backers said they wanted their candidate to address the needs of all Americans. They delivered the White House to Biden, a candidate who emphasized unity over resentments, while supporting Republicans in Congress.
Such election results signal that Americans are resistant to either party's domination, which is effectively a call for collaboration. With society shocked by COVID-19 casualties and Trump's unconventional presidency, the pieces of the American political puzzle may fit together in novel ways.
Toning down the rhetoric, resisting extremism, avoiding vindictiveness and stressing pragmatic solutions can build up a common ground that will mend the fraying fabric of our society.
Dan Raviv, an author and media analyst, contributed to this article.
America's political divide will be very hard to heal
-Robert Talisse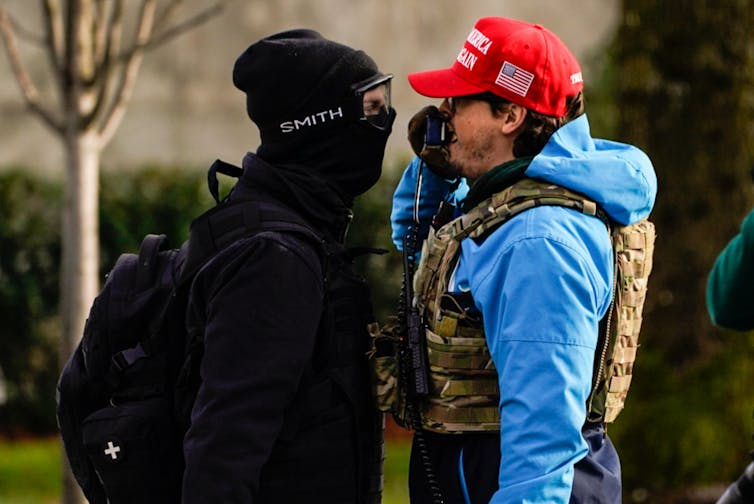 A counter-protester clashes with a supporter of President Donald Trump at a political rally, Dec. 12, 2020, Olympia, Wash. David Ryder/Getty Images
In his victory speech, Joe Biden said that partisanship "is not due to some mysterious force" but "a choice we make," asking Americans to "give each other a chance."
His advice for doing that: "listen."
Other political analysts have advised listening, too, as a way to heal America's divide.
But lack of listening isn't the problem here. My research on polarization shows political divisions have more to do with negative feelings toward opponents than with misunderstanding their views. When those feelings are intense, as they are right now, listening can actually deepen divisions. So when opponents speak, partisans hear only distortion and hypocrisy.
This article is republished from The Conversation under a Creative Commons license.