By One Measure, Q4 Earnings Are The Weakest In 7 Years
Over the weekend we reported that the era of "peak profits" has finally arrived, with consensus now expecting S&P500 earnings to post the first year-over-year decline since 2016.
(Click on image to enlarge)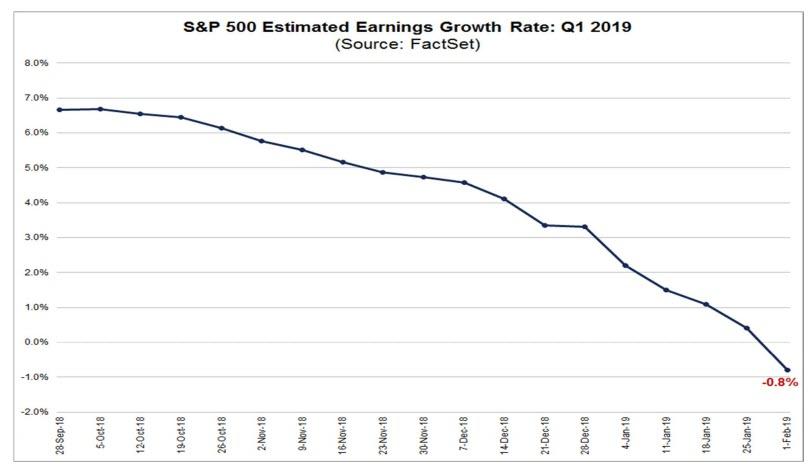 And while the future of corporate profits is increasingly nebulous - despite the Q1 EPS decline consensus still expects Q2-Q4 to post earnings growth leading to another full year of rising EPS - problems are emerging amid already reported earnings.
Here are the facts: with 73% of S&P500 companies having now reported earnings, so far, 60% of companies have beaten on EPS, 53% on sales and 37% on both. While this is not only below the long-term average, it is also the lowest at this point of earnings season in four years. Commenting on earnings, BofA notes that it expected fewer and lower beats this quarter vs. recent quarters, given the deterioration in economic data surprises/the fall in the ISM indices in 4Q, plus weaker results from the early reporters.
And that's precisely what has taken place: as BofA's Chart of the Day shows, the "Era of big beats has come to an end" and Q4 has seen the weakest quarter for actual results relative to expectations since Q2 2011.
(Click on image to enlarge)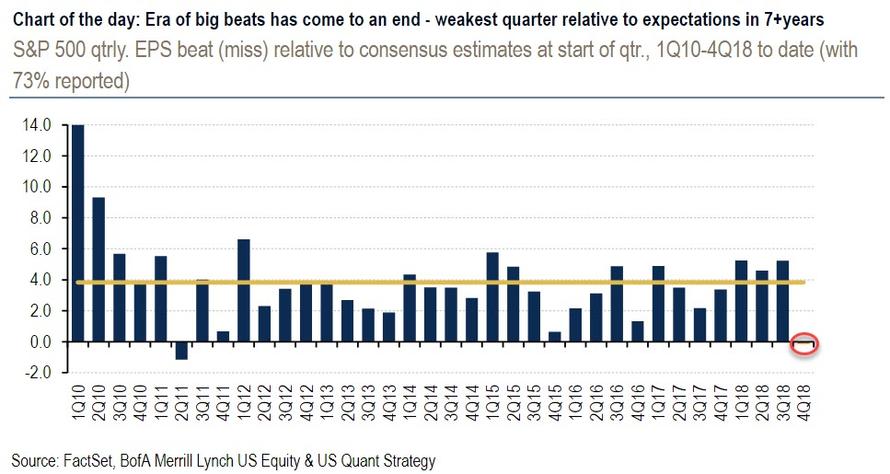 4Q sales are coming in 0.6% below start-of-January levels, and suggest sales growth of +5% YoY (vs +9% in 3Q). BofA estimates FX was a 1.4% headwind to YoY growth (vs a 1.1% headwind last quarter), the largest since mid-2017. Excluding FX/oil impacts, constant-currency sales growth for the S&P 500 ex. Fins. & Energy is expected to decelerate slightly less, to +6% YoY (vs +9% YoY in 3Q).
(Click on image to enlarge)
The problem is that analysts already trimmed expectations more than usual heading into the quarter, and as shown in the top chart, results are now barely coming in line with those lowered expectations, with beats from Energy, Comm. Services, Industrials and Health Care offset by weaker-than-expected earnings from Financials, Materials, and Tech.