Buy These 4 REITs Raising Dividends In August
After a couple of months with no dividend news, it's time to return to my monthly list of REITs that should announce dividend increases next month – that's August 2015. The REIT sector has been in a correction since late January and buying shares before a dividend increase announcement is one way to take advantage of these deflated prices and lock in great yields and growth.
Typically the announcement of a dividend increase will help boost the share price. This provides the double benefit of a higher cash income stream and a higher share price. As well, investing in companies that regularly grow their dividend payment will ensure the long-term growth of your capital. A little-known fact about dividend investing is that you can calculate the long-term growth of a dividend stock by adding the dividend growth rate to the yield. So, if a stock yields 3% and grows their dividend at 12% a year for five years. Investors would have earned a 15% annual return for those five years!
I track about 90 REITs that have histories of regular dividend increases and another 35 that have not been growing their payouts to share owners. My investment strategy focuses on reviewing income stocks for a combination of current yield and dividend growth. Most REITs that do increases do so once a year. However, the timing of increases are spread across almost every month except for the summer months of June and July. Here are the REITs that historically have announced dividend increases in August.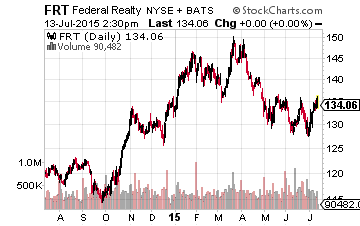 Federal Realty (NYSE:FRT) is a premium retail REIT that has increased its dividend for 46 consecutive years. It's a safe bet that the payout will increase again this fall. Federal typically announces its Fall dividend during the first few days of August. Ex-dividend occurs around September 21 and payment date is mid-October. Increases have been 5.8%, 6.8% and 11.4% for the last three years, so the rate of growth has been accelerating. The FRT share price is about where it started out for 2015 and the current yield is 2.6%. This is a REIT you own for growth rather than current yield.
High yield / high dividend growth investments that you should buy are an integral part of the income strategy with my newsletter, more