Bull Market In US Bonds Still Running Hot In 2019
Fixed-income investing has been a winner in no small degree this year. Throwing money at almost any slice of US bonds has been a winning decision, based on a set of exchange-traded funds. Notably, favoring bigger duration risks has delivered bigger returns.
For the top-performing slice of US fixed income, this year's results so far have, at times, rivaled the extraordinary run in US stocks. Indeed, the current year-to-date leader on our bond ETF list could be mistaken for an equity fund if you looked only the price histories. Vanguard Long-Term Corporate Bond (VCLT) is up a red-hot 21.4% so far this year (through Nov. 6). That's behind the US stock market (SPY), although a few weeks back VCLT was in the lead.
VCLT's rally, however, is looking a bit tired these days. After a virtually non-stop run through early September, the fund has been mostly treading water over the past two months.
The possibility of a partial resolution to the US-China trade war is a factor weighing on the bond market this week. "Trade progress via the US and China being said to consider partial tariff rollbacks, coupled with most recent top-tier data prints coming in stronger than consensus, paints a textbook picture for higher rates and equities as near-term recessionary fears moderate," writes Jon Hill, an interest-rate strategist at BMO Capital Markets, in a research note to clients.
The rear-view mirror, however, still looks impressive for US bonds generally. Indeed, even the investment-grade benchmark for fixed income — Vanguard Total Bond Market (BND) – is posting a solid 8.4% total return so far in 2019.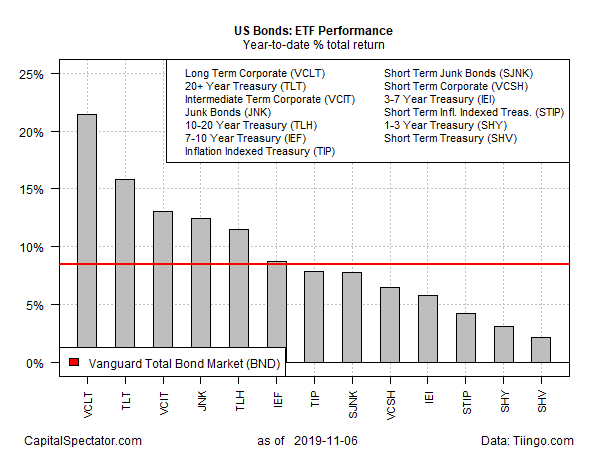 Some analysts are advising that changes in central bank policy may create new headwinds for bonds from this point forward.
"We are past the peak of central banks easing," warns Peter Schaffrik, a global macro strategist at RBC Capital Markets. "You may get a few more cuts here and there, but the extreme cutting phase is over. And with that, yields in the US and globally are at risk of going higher. I'd be cautious about fixed income now."