BTC Downturn Hits Lowest Point Yet
The year 2018 has been a stressful one for us all, and it seems that despite the coming new years and Christmas, the stress will not be abating even a little. As of writing this article, BTC has hit the lowest point it has been at in more than a year. Where does this leave the lot of us and what possible future do we have expecting us in the near and far future of the cryptocurrency industry?
(Click on image to enlarge)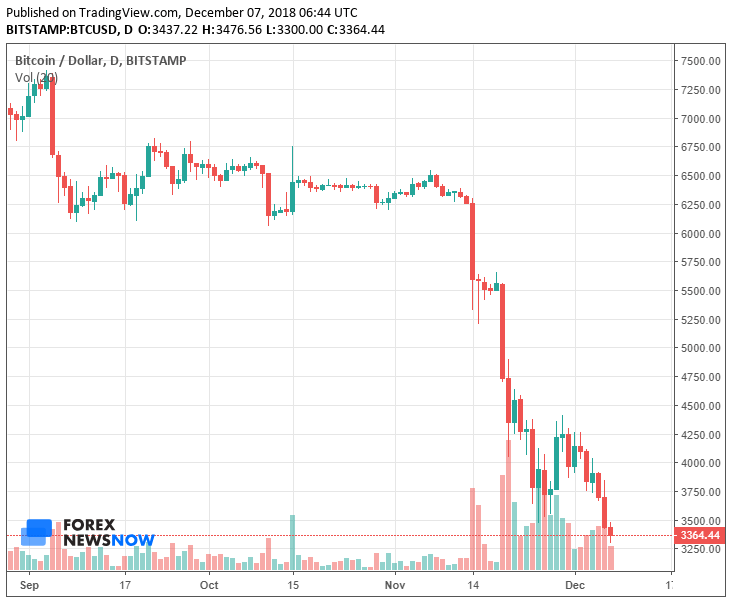 Where are we now?
As of this moment, when the first rays of the sun are hitting the cold waters of the Atlantic ocean, we are looking at a BTC that is in the sorriest state it has been in years. The year-long downtrend continued, despite the initial breather that the token had at one point last night where it jumped to $3900, to the current culmination of just above $3380 a low not seen in more than a year. The initial jump to $3900 from last night remains unexplained, just like it usually happens with cryptocurrencies, but the slight sliver of hope that came with it is as dead as they get.
Just like that, the rest of the cryptos followed. Not surprising since Bitcoin, the face of the industry, and the coin that has 66% of the total crypto industry value, usually directs which way the rest of the currencies will be heading. The amount of reading we saw today is a little intimidating. Though certain green streaks remain: Tether, Bitcoin SV, USD Coin, Gemini Dollar and a number of other currencies remain in the green. An anomaly or not, we are not sure. Out of all these Bitcoin SV is feeling the best right now, finally going above $100 with a 15% growth over the past 24 hours. An interesting prospect for the estranged child of Bitcoin.
Still, sitting the keyboard and looking at the current curves, I can do nothing but hope for the best. The downtrend continues, but the traditional volatility of the Cryptomarkets might cause a surge, not unlike the one we saw earlier last night.
Where is this downtrend coming to? We cannot be sure, but it looks like the currencies are going to their pre-2017 boom levels. Though some are currently thinking that after BTC reaches levels of $3000 to $3300 (steadily) the current sell-off will end, with investors gaining interest in buying. Whether this will be institutional involvement from large-scale companies, banks or private BTC investors does not matter, as the surge will bring the coin skyrocketing back into acceptable positions.