Broad US Stock Market Update - Strong Evidence That It May Be Out Of Time.....
Broadly speaking it looks like the broad US stock market is at or very close to a final top with broadening formations visible on the Dow Jones Industrials charts on shorter-term charts and on a larger scale on long-term charts.
The broad stock market has put in an impressive performance since the Fed's about face to save it at the end of May/start of June, and has even risen to new highs, but as we will see in this update it is not "out of the woods" yet – on the contrary, it may be at a double target and thus set to roll over soon and drop.
On the year-to-date chart we can see that although the rise from the late May low has taken the market up to a new high, it HAS NOT broken it above the upper boundary of the potentially bearish broadening pattern shown. It is overbought again after this run and is showing signs of rolling over.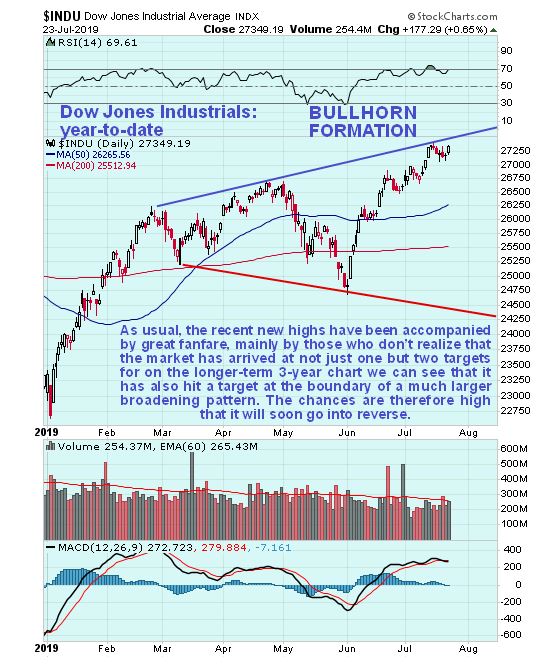 On the 3-year chart we can observe a curious and interesting technical coincidence, for not only has the market arrived at the upper boundary of the broadening pattern shown on the year-to-date chart, it has also arrived at the upper boundary of a much larger broadening pattern that has been forming since the early January 2018 blowoff top. What this means is that there is a good chance that we are looking at the final high here for the bullmarket that has been in force for over 10 years now. The smaller broadening pattern fits within the larger one "Russian Doll" style, although given the risk of Russian interference in the market, the use of this term might be deemed to be politically incorrect. So, to be on the safe side, we will henceforth refer to them as "North Asian Dolls".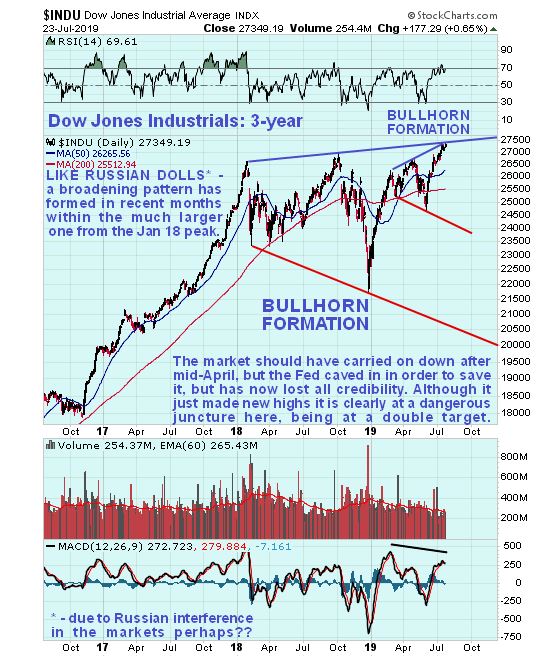 A word of caution is in order here regarding these broadening patterns. While they are a sign of distribution and often mark tops, what sometimes happens is that the price (index) breaks out above the top boundary into a final vertical blowoff move before collapsing back. What they do mean, even if this happens, is that the market is either at or close to a final high. This means that it is an effective tactic to short a market that is close to the upper boundary of one of these patterns, but with a stop above it in case, it breaks above it into a final spike, which can, of course, be very damaging if you are short.