Bond ETFs have been in rally mode for months and investors need to understand the opportunities and implications of these moves.
Who would have thought that between September 2, 2014 and January 29, the share price of the iShares Barclays 20+ Year Treasury Bond ETF (TLT) would have soared 17.48 percent, while the share price for the S&P 500 SPDR ETF (SPY) would have advanced only 1.71 percent?
During the same period, the share price for the iShares Barclays 7-10 Year Treasury Bond ETF (TLT) jumped 6.03 percent. Between the closing bell on New Year's Eve and January 29, the price jump for TLT shares has been 7.90 percent.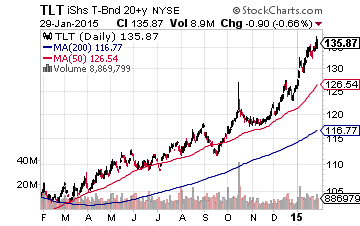 Investors expect stronger gains from stocks and equity-based ETFs, because the higher risks are expected to bring higher rewards. Investors are willing to settle for more modest gains from investing in Treasuries and Treasury bond ETFs because of the "safe haven" which Treasury securities provide.
As you may recall, the stock market experienced a painful correction last autumn, which suppressed the price advance for the SPY ETF. Nevertheless, while the TLT ETF experienced a 7.90 percent 2015 share price advance as of January 29, the SPY ETF declined 1.72 percent.
At the heart of the run-up in bond prices is the anticipated "lift-off" of the increases to the federal funds rate by the Federal Reserve. Fear that stock prices could take a steep dive, once the Fed tightens the money supply, is already driving investors to Treasuries and away from stocks. Many investors fear that once the "lift-off" occurs, a significant stock selloff could follow.
Bond guru Jeffrey Gundlach of DoubleLine recently warned of the consequences which could result if the Fed began raising interest rates too soon. While it is widely assumed that "lift-off" will begin in September, Gundlach expects that the Fed will realize that it made a mistake by raising the federal funds rate at a point when the Fed's own inflation target of 2 percent (personal consumption expenditures or PCE inflation) is still likely to be years away.