Bonds Are Getting More Interest
One of the most important questions for investors is whether interest rates will remain low. Persistent paltry yields still aren't fully explained. Inflexible investment mandates affecting trillions of dollars are a partial explanation. For example, the equity risk premium favors stocks sufficiently that it's possible to replace a ten-year government bond with as little as 20% of the money reallocated to stocks and 80% in cash (see Stocks Are Still A Better Bet Than Bonds).
The resulting barbell has a very high likelihood of delivering the same return or better than bonds, but conservative assumptions still fall short of a guaranteed outcome. Even though low yields should induce investors to allocate more to stocks, pension funds, central banks and others with rigid fixed income mandates continue to hold vast amounts of bonds with derisory yields.
Related to this is the continued drop in real yields. It's a phenomenon that's lasted several decades. The series below shows real yields on the average of U.S. government inflation-indexed bonds (TIPS) for over twenty years.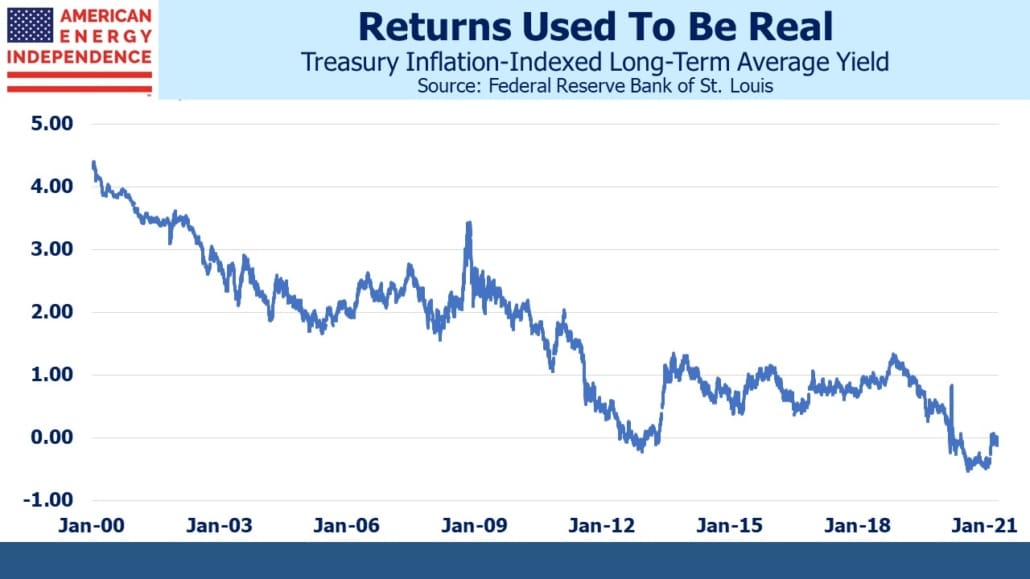 The decline in real yields led the FOMC to change how they implement monetary policy. A couple of weeks ago Federal Reserve Vice-Chairman Richard Clarida explained that the decline in real rates had also led FOMC members to steadily revise their forecast equilibrium policy rate lower. It's fallen from 4.25% in 2012 to just 2.5% now. Even at that level, given the FOMC's 2% inflation target it implies a neutral real policy rate of +0.5%, whereas long term TIPS yields are negative. That means that the FOMC may eventually revise their neutral policy rate lower still.
The reduced neutral short term rate is why the FOMC is willing to tolerate inflation modestly above 2%. Low rates offer less room to cut during a recession. The FOMC felt this risked inflation remaining below 2%, too close to damaging deflation for them to be comfortable.
Back in the 80s and 90s bond markets were interesting. Fed policy moved with economic cycles. Eurodollar futures could be traded. Since then, interest rates have offered many years of comparative boredom, with the 2008 financial crisis and Covid recession offering a brief respite from the slumber that enveloped fixed income.