Bond Investors Are Right To Worry
"At this point, the Federal Open Market Committee is seeking inflation running moderately above 2% for some time." Fed chair Jay Powell, Senate testimony February 23.
The Fed is walking a fine line, and it's easy to take this comment out of context. Inflation can be too low, and in order to ensure they adhere to their dual mandate of maximum employment consistent with stable prices, the Fed is willing to take a little risk with price stability. Nonetheless, if the marble hallways of the Federal Reserve building in Washington DC display carved quotes from Powell's predecessors, this one is unlikely to be added.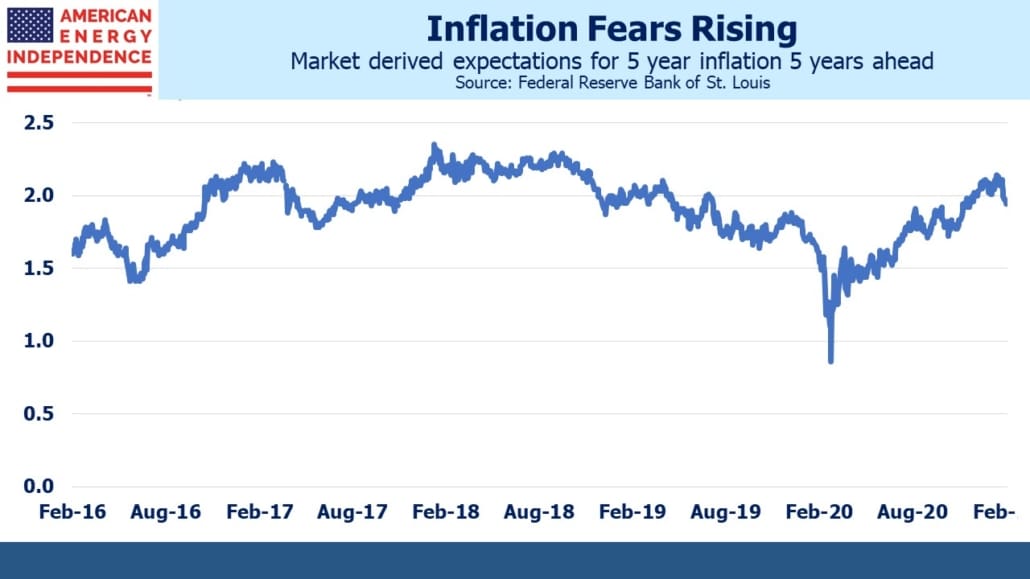 The Democrats have embraced Modern Monetary Theory (MMT) in all but name (see Democrats Will Test The Limits On Spending). The only theoretical limit on government spending is when it's inflationary, and until it is one must conclude spending plans weren't bold enough. Today's low bond yields are a piggybank to be raided for COVID relief, infrastructure spending and the energy transition.
Fixed income investors have been abused by paltry yields for years. The biggest question in finance today is why long-term rates have remained so persistently low for so long. Real yields have been falling for at least a generation. Inflexible investment mandates for institutional investors such as pension funds, which mandate a fixed income allocation regardless of return prospects, are part of the reason.
Bond investors' passive acceptance of diminished returns has made Democrat spending plans possible. $2.8TN in the Fed's expansion of its balance sheet, $3.4TN in deficit-financed spending, plus the latest $1.9TN COVID relief plan add up to over $8TN in stimulus. As Barry Knapp of Ironsides Macroeconomics notes, this is to offset the estimated $1.1TN nominal GDP output gap caused by the recession. In other words, we're plugging the economy's hole by a factor of over 7X. There's little risk that the government's financial response to COVID could be criticized as inadequate.