BOC, ECB, & RBA Rate Expectations Drop As Global Recession Fears Cool - Central Bank Watch
With Brexit on a path towards resolution and the US-China trade war looking like it move past the impasse, fears of a global recession have abated sharply in recent days. Strong gains by global equity markets coupled with the third-best two-day performance in the British Pound's history seem to suggest that risk appetite is evolving in a positive way very quickly.
In turn, the reach for higher-yielding currencies and high beta assets has come in tandem with a drop in G10 currencies' central banks rate cut cycle expectations. While the RBA looks like it will cut rates again in 2019, rates markets are no longer pricing in action from the ECB, and the BOC isn't expected to cut for nearly an entire year.
ANOTHER ECB RATE CUT IN 2019 REMAINS UNCERTAIN
European Central Bank rate cut odds have eased off in recent days, in part due to progress on the Brexit and US-China trade war fronts, but also on the news that Eurogroup finance ministers agreed to a fiscal stabilization fund – a "rainy day fund" – to use in the event of future crises. While it is not a fiscal union, it is a step in a direction of making the Eurozone more sustainable over time. The ECB may not be the only game in town for much longer; fiscal authorities are waking up.
EUROPEAN CENTRAL BANK INTEREST RATE EXPECTATIONS (OCTOBER 3, 2019) (TABLE 1)
(Click on image to enlarge)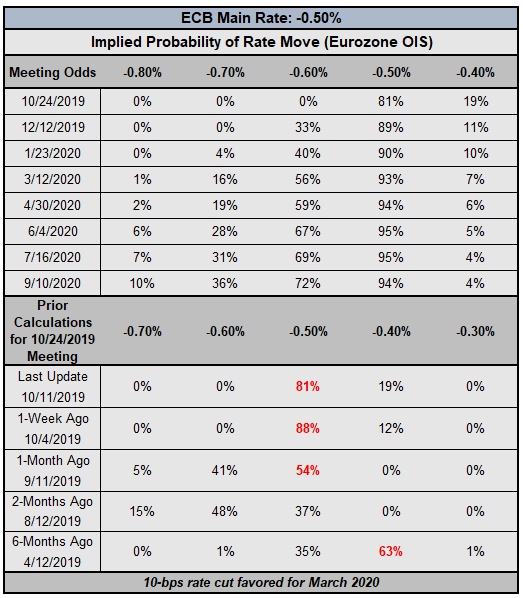 Overnight index swaps are currently pricing in an 81% chance of no change in rates at the October ECB meeting. Having just cut rates in September, it seems highly unlikely that the ECB would unwind such measures so quickly. But the fact of the matter is that rate cut expectations are waning: one month ago, there was a 41% chance of a 10-bps rate cut; now there is a 19% chance of a 10-bps rate hike. Rates markets do expect more action from the ECB in the first half of 2020: there is a 56% chance of a rate cut in March 2020.
IG Client Sentiment Index: EURUSD Rate Forecast (OCTOBER 11, 2019) (Chart 1)