Biotech Snapshot During A Rally Day: No Summer Doldrums…
Biotech stocks were mixed trading closer to the flatline after the close last night, on light summer volume. Macro issues such as drug pricing, trade and the Fed remain a concern.
Well known gene editing stocks (CRSP, EDIT, NTLA) are volatile and near a 30 day bottom. EDIT trails others down 16.5% YTD, NTLA up 27.8% YTD, CRSP up 90.5% YTD. We have traded EDIT and NTLA but await a new entry point. These stocks are still off their highs hit before damaging scientific article on JY 16 highlighting unknown risks of the technology.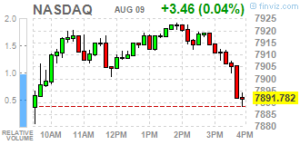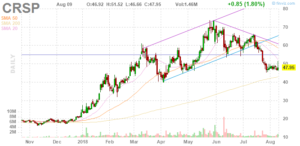 Nasdaq at 7915 Going for 8th Day of Gains on Earnings Driven Rally
Gene Editing Stocks Very Active and Volatile
Biotech and healthcare stocks were green today and there were bullish analyst comments as well as big movers. The Canaccord Genuity Growth Conference yesterday could be a factor in the rally. The bull market is intact but we would just hold core positions anticipating a Q4 rally. We are just a tad off 2018 highs on the FBT and IBB with all large cap earnings reports in. The more volatile XBI is actually down 3.9% over 30 days.Meanwhile large cap drug stocks continue to rally and the healthcare (XLV) is up 4% over 30 days, off May lows and 7.8% YTD, very close to January 2018 highs of $91.5. The FBT is up 19.8% YTD.
The worse trade of the week is Congressman Chris Collins,NY long and insider trading short of Innate Immunotherapeutcs, Ltd.(IIL.AX) an obscure Australian Biotech firm.