Biden Considering Rule To Cut Nicotine In Cigs; Tobacco Stocks Tumble
Of course, lowering nicotine in cigarettes has been a subject of discussion inside the FDA since the 1990s. It can be done in different ways, such as genetically modifying tobacco plants or stripping nicotine from the leaf in the manufacturing process. In 2009, the Tobacco Control Act authorized the FDA to mandate such a change, stipulating that the policy be based on scientific evidence. A ban on menthols has similarly been in the FDA's sights for years.
In response, tobacco companies have said that any change in cigarettes' nicotine levels must be backed up by scientific research and should consider potential consequences such as an increase in black-market sales.
As for Menthol, while the Tobacco Control Act banned candy, fruit, and spice flavorings in cigarettes because of their potential appeal to children, it left unsettled the issue of menthol. The 2009 law said the FDA could prohibit menthols only if it could demonstrate that a ban was a net benefit to public health, taking into account potential unintended consequences such as an illicit market. The agency has been working on overcoming that hurdle since then. The FDA concluded in 2013 that menthols are harder to quit and likely pose a greater health risk than regular cigarettes. The agency said the use of cigarettes was likely associated with increased smoking initiation by youth and young adults.
In kneejerk reaction to the news, shares of cigarette makers tumbled with Altria sinking as much as 6.1%, the most intraday since March 2020.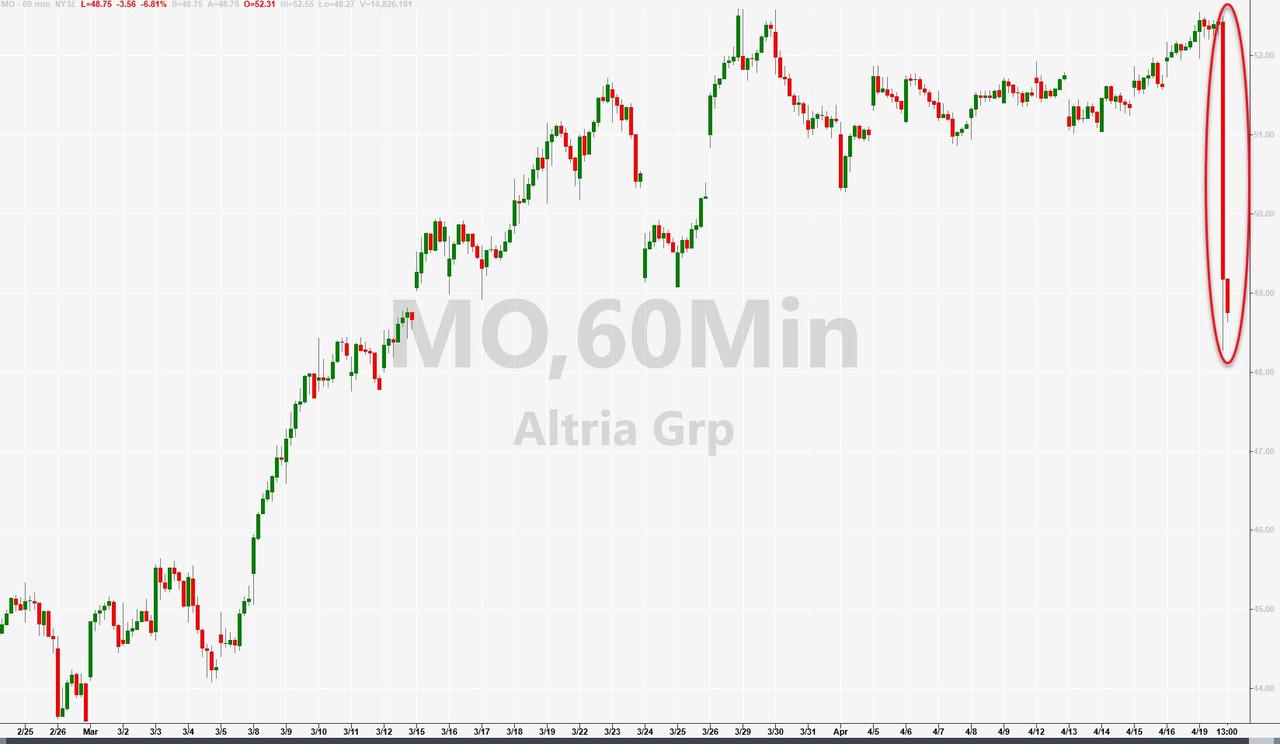 Elsewhere, Philip Morris fell as much as 1.4% to a session low; Vector Group fell as much as 1.5% and British American Tobacco's ADRs slumped 1.7%.
Disclaimer: Copyright ©2009-2021 ZeroHedge.com/ABC Media, LTD; All Rights Reserved. Zero Hedge is intended for Mature Audiences. Familiarize yourself with our legal and use policies every time ...
more