Bearish Expectations, Will Stocks Continue Lower?
The U.S. stock market indexes lost 0.3-0.5% on Wednesday, extending their short-term consolidation, as investors hesitated following Tuesday's rebound. Last week the S&P 500 index fell the lowest since late March, and it got very close to the 2,800 mark (the local low at 2,801.43). Then it rebounded to the resistance level of around 2,890-2,900. It currently trades 3.3% below its May the 1st record high of 2,954.13. The Dow Jones Industrial Average lost 0.4% and the Nasdaq Composite lost 0.5% on Wednesday.
The nearest important resistance level of the S&P 500 index remains at 2,885-2,890, marked by the recent local highs. On the other hand, the support level is at 2,850-2,855. The support level is also at around 2,830, marked by Monday's local low.
The broad stock market retraced all of its December sell-off and it broke above the last year's high recently. But then the index broke below the short-term consolidation and it retraced all of the April's advance. The market also broke below its two-month-long upward trend line. Last week the S&P 500 index retraced some of its recent declines. For now, it looks like an upward correction before another leg down:
(Click on image to enlarge)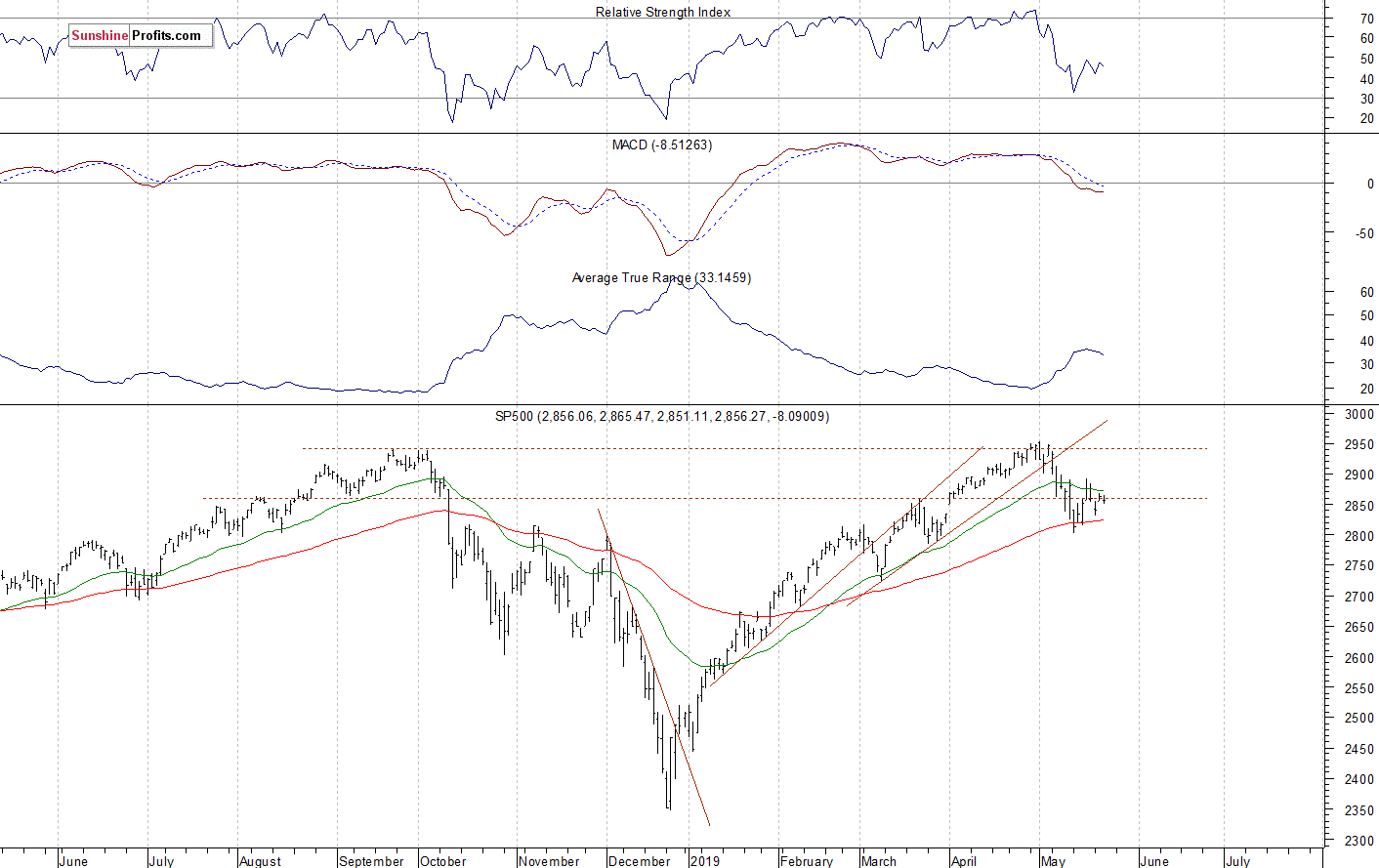 Very Negative Expectations, Resuming Downtrend?
Expectations before the opening of today's trading session are negative because the index futures contracts trade 0.9-1.2% below their Wednesday's closing prices. The European stock market indexes have lost 1.3-1.7% so far. Investors will wait for series of economic data announcements today: Unemployment Claims at 8:30 a.m., Flash Manufacturing PMI, Flash Services PMI at 9:45 a.m., New Home Sales at 10:00 a.m. The broad stock market will likely get back to its recent local low today. If the S&P 500 index breaks below the support level of around 2,830, we could see more selling pressure.
The S&P 500 futures contract trades within an intraday downtrend, following breaking below the 2,850 mark. The nearest important resistance level is now at 2,850. On the other hand, the support level is at 2,815-2,825. The futures contract remains below its week-long downward trend line, as we can see on the 15-minute chart: