Bank Of America: Investors Should Look For Less Risky Bets And Higher Quality
Employee Satisfaction Survey Problematic for Mega-Banks, Including Bank of America (NYSE:BAC)
The satisfaction of employees working at the nation's big banks, including Bank of America, is indicative of long-range problems with the banks' relationships with both their front-line bankers as well as with their customers. While most of the low-level bankers earn less than $15 per hour, the corporate executives make millions.
At the same time, 35% of surveyed workers report being pressured to engage in possible predatory lending practices, pressuring customers into purchasing products they do not need or that they can ill afford. Sales of these products are tied into the low-level bankers' job retention. If they fail to meet their sales quotas, they risk losing their jobs. In October 2015, hundreds of bank workers protested their working conditions in Los Angeles. The workers represented the five biggest banks, and took control of the lobby of the Wells Fargo (NYSE:WFC) Los Angeles Headquarters.
Problems with Bank of America
Despite Bank of America's reporting reasonable third-quarter profits, the bank has significant issues it must address in addition to poor employee satisfaction. They are rated last in customer service satisfaction among their peers, according to J.D. Power's most recent customer satisfaction survey. While the bank has focused on cutting expenses and costs for the past five years, they have failed to address the perception their customers have of them.
Another major problem for Bank of America is their relationship with the bank's shareholders. The corporate executives are known within the industry to not take their shareholders' concerns seriously. Additionally, their per-share book value is still 30 percent below the peak they reached in 2007. The bank's governance risk as tracked by Institutional Shareholder Services demonstrates that the bank received the worst rating possible for its audit risk and for its board structure.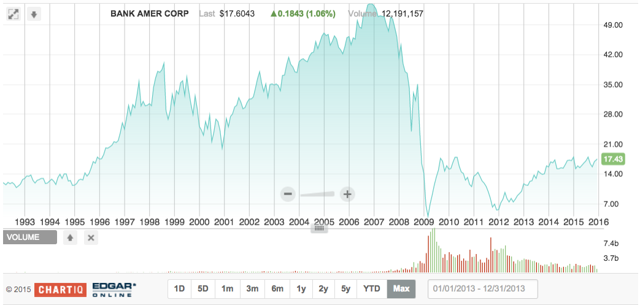 (Nasdaq.com)
The bank's debt rating of A- means that the bank pays more to borrow than do its competitors. In the third quarter, BAC borrowed $240 billion at a rate of 2.22 percent, a significantly higher interest rate than that enjoyed by its higher-rated competitors.
Why Blue Hills Bancorp and Berkshire Hills Bankcorp May Be Better Investment Alternatives
In addition to the problems faced by big banks, they are currently front and center in the Presidential political debates. Big banks are increasingly unpopular with the public, and there have been calls to break them up by candidates from both sides of the aisle. Investors may do well to choose smaller banks in which to invest, such as Blue Hills Bancorp (NASDAQ:BHBK) and Berkshire Hills Bankcorp (NYSE:BHLB).
Barron's recently recommended Blue Hills Bancorp due to its solid performance and its availability at a discounted rate. The bank's price-to-earnings ratio is 141.09 and its market cap is $374.82 million. Blue Hills keeps its primary focus on its customers, earning profits from deposits and making loans.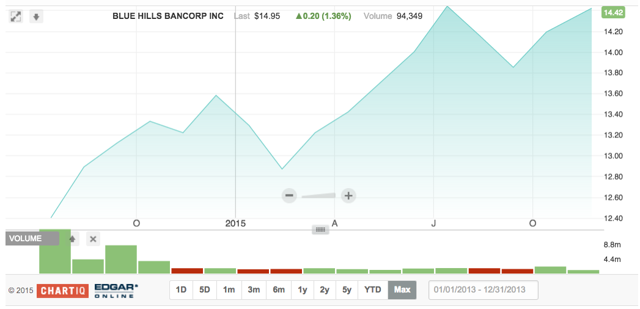 (Nasdaq.com)
Recommendations: Cash Out Of BAC
While BAC was not the only mega-bank implied in the above report on unethical practices, when combined with a difficult regulatory environment, additional poor public relations, and a sagging stock price; the investment opportunity dims.
Investors looking for alternatives may want to choose smaller, regional banks that have lower costs and that still are focused on both their customers and their shareholders. Blue Hills Bancorp and Berkshire Hills Bankcorp may be better options for investors than investing in shares of BAC.