AUD/USD Rate Vulnerable To Slowing China Consumer Price Index (CPI)
AUD/USD pares the decline from earlier this week as the U.S. Non-Farm Payrolls (NFP) report disappoints, and the exchange rate may continue to consolidate over the coming days as it fails to extend the recent series of lower highs & lows.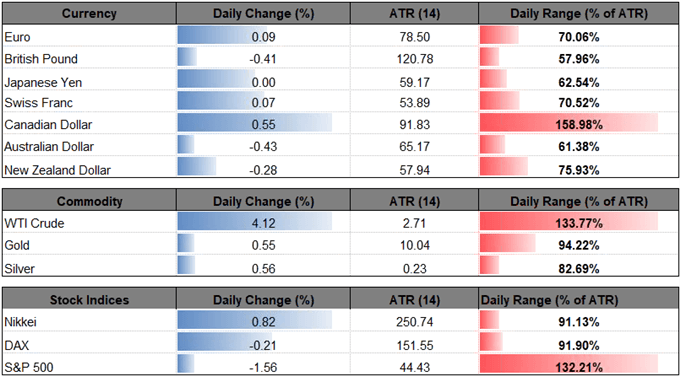 AUD/USD RATE VULNERABLE TO SLOWING CHINA CONSUMER PRICE INDEX (CPI)

AUD/USD holds above the weekly-low (0.7191) as the NFP report shows a 155K expansion in November versus projections for a 198K print, with Average Hourly Earnings holding steady at 3.1% per annum for the second consecutive month.
The lackluster data prints may push the Federal Open Market Committee (FOMC) to deliver a dovish rate-hike later this month especially as Fed Vice-Chairman Richard Clarida warns that 'we are in a world where central banks, including the Fed, are focused on keeping inflation away from disinflation,' and Chairman Jerome Powell & Co. may continue to soften their hawkish tone over the coming months as the central bank shows a greater willingness to tolerate above-target inflation over the policy horizon.
In turn, waning expectations for an extended hiking-cycle may produce headwinds for the greenback, but the diverging paths for monetary policy continues to cast a long-term bearish outlook for AUD/USD especially as the Reserve Bank of Australia (RBA) keeps the door open to further support the economy.
(Click on image to enlarge)

As a result, data prints coming out of China, Australia's largest trading partner, may shake up AUD/USD as the region faces its slowest economic expansion since 2009, with the Consumer Price Index (CPI) expected to narrow to 2.4% from 2.5% in October. Moreover, the lingering threat of a U.S.-China trade war is likely to keep the RBA on the sidelines as it dampens the economic outlook for the Asia/Pacific region, and the central bank may continue to tame bets for higher borrowing-costs as 'the low level of interest rates is continuing to support the Australian economy.'