At Medium-Term Lows, Which Direction Is Next?
The U.S. stock market indexes lost 1.9-2.3% on Friday, retracing their recent advance, as investors' sentiment worsened again. The S&P 500 index is currently 11.6% below September the 21st record high of 2,940.91. The Dow Jones Industrial Average lost 2.0% and the Nasdaq Composite lost 2.3% on Friday.
The nearest important level of resistance of the S&P 500 index is now at 2,635-2,640, marked by Friday's daily gap down of 2,635.07-2,637.27. The next resistance level is at 2,675-2,685, marked by some recent fluctuations. The resistance level is also at 2,695-2,700, marked by the previous daily gap down of 2,696.15-2,697.18. On the other hand, the support level is at2,580-2,600, marked by the medium-term local lows. The next support level is at 2,530-2,550.
The broad stock market reversed its recent upward course following the S&P 500 index' reversal off the resistance level at 2,800. Then the market broke below 2,700 mark, as it retraced more of the rally. On Monday a week ago it fell the lowest since the early April, before bouncing off and getting above 2,600 mark at the end of the day. The index continues to trade along its previous medium-term lows, as we can see on the daily chart:
(Click on image to enlarge)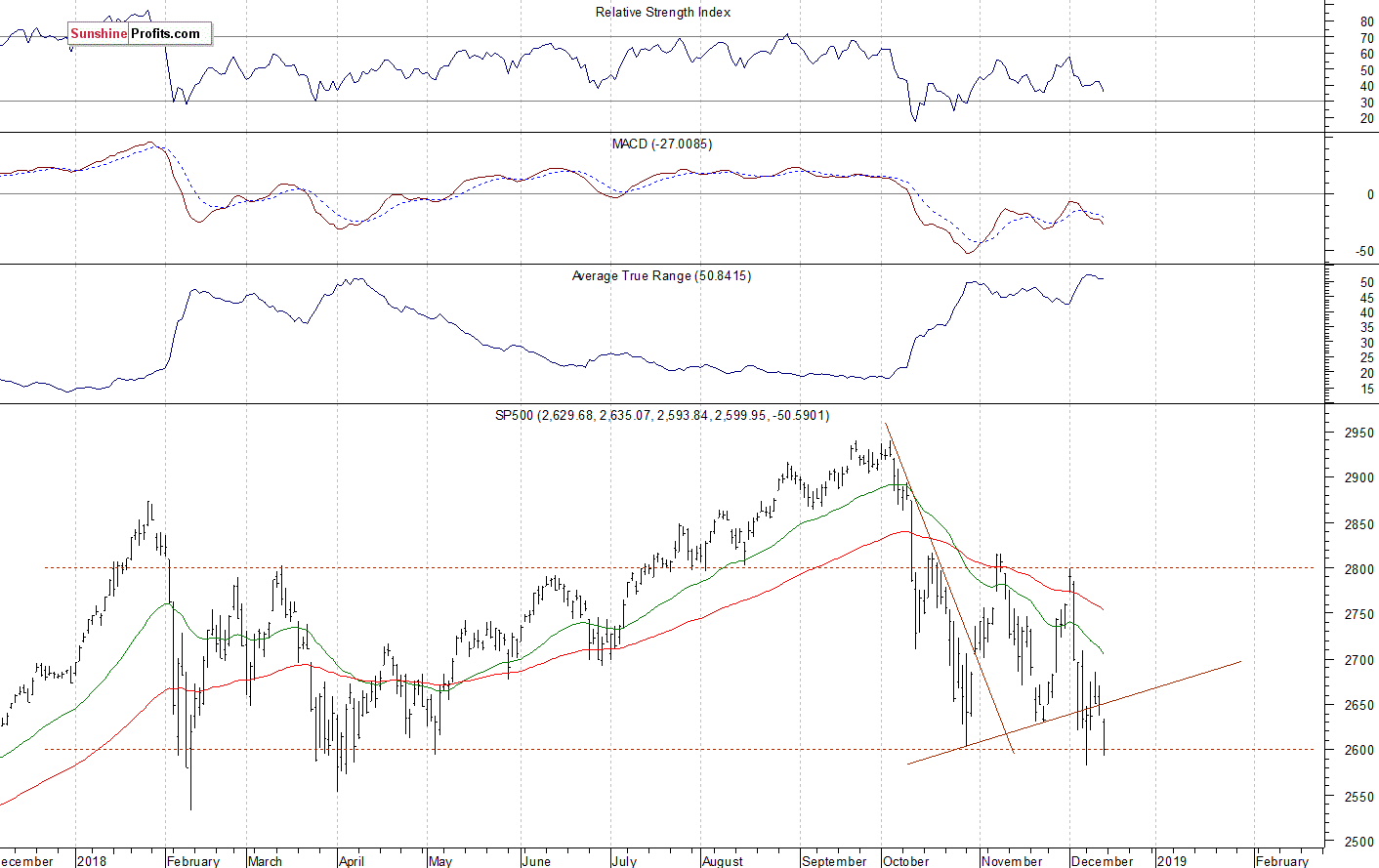 Mixed Expectations
The index futures contracts trade 0.1% below their Friday's closing prices. So expectations before the opening of today's trading session are slightly negative to virtually flat. The European stock market indexes have lost 0.5-0.6% so far. Investors will wait for some economic data announcements: Empire State Manufacturing Index at 8:30 a.m., NAHB Housing Market Index at 10:00 a.m., Leading Indicators at 10:30 a.m. The broad stock market will likely fluctuate along the mentioned medium-term support level. If the S&P 500 index breaks below the last Monday's daily low, we could see more selling pressure.
The S&P 500 futures contract trades within an intraday downtrend, as it retraces its overnight advance. The nearest important level of resistance is at around 2,610-2.615, marked by the short-term local highs. On the other hand, the support level is at 2,590, among others. The futures contract trades along the level of 2,600 this morning, as the 15-minute chart shows: