As Institutions Dump Stocks, Nomura Uncovers The Four Drivers Of The "Breathtaking" Rally
Commenting on the market's latest meltup, Nomura's Charlie McElligott generally skips the primary catalyst for today's action, namely Trump's decision to extend the March 1 trade tariff deadline with China, and instead focuses on the Fed's "breathtaking" policy pivot which as noted during the barrage of Fed speakers on Friday, now also includes the "double-whammy" of both 1) a "Reverse Operation Twist" shift to alter the composition of the balance-sheet (shrinking the weighted average duration of the UST portfolio via directing reinvestments into the front-end, while allowing for MBS to continue "running off") alongside a hint of 2) a new framework to increase inflation expectations (either through 'averaging' or 'targeting' to allow for "overshoot") which "will have a profound thematic impact on investor behavior over the coming months".
Meanwhile, McElligott also notes the ongoing gargantuan Chinese liquidity- and credit-creation "binge"...
(Click on image to enlarge)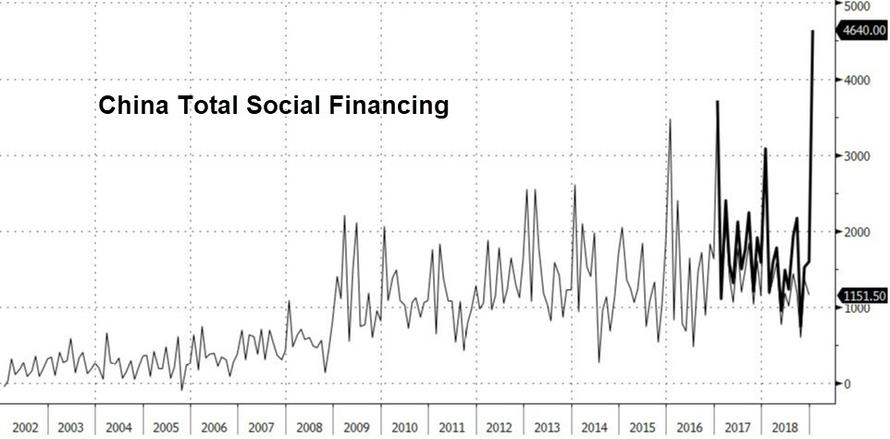 ... which despite vocal complaints from China's prime minister urging to tame the massive credit expansion, shows no signs of letting-up following Friday's Politburo "official statement", which now downplays "the prior baseline importance of preventing financial risks, vs now instead signaling greater focus on stimulating growth (as well as further seeking to liberalize the Securities industry) and driving a "speculative mania" back into stocks again", which as we noted earlier today saw Chinese stocks re-enter a bull market, with the CSI 300 soaring +6.0%, alongside the SHCOMP's 5.6% surge - its biggest one day gain since the summer of 2015 - with a "cyclical" lean (Brokers +10.6%, Diversified Financials +10.0%, Banks +6.3%, Materials +5.6%, Industrials +5.2%).
(Click on image to enlarge)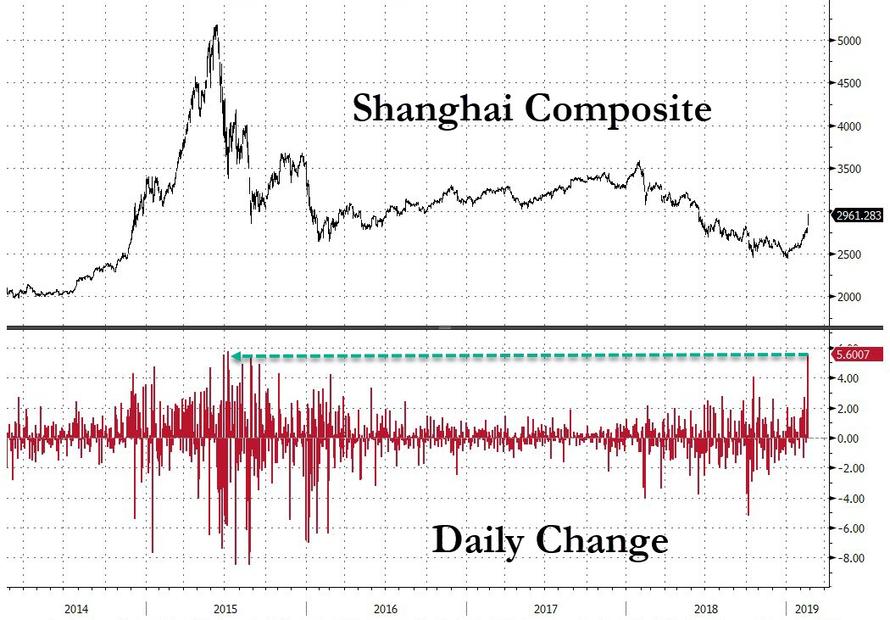 To the Nomura strategist, this latest "reflation" impulse is critical from a macro-factor perspective to maintain the "goldilocks" narrative, as (subdued) inflation matters most to SPX, with "Metals" and "Inflation Expectations" making up four of the top five largest sensitivities (Iron Ore, Copper, 2Y Inflation Expectations and 5Y Inflation Expectations), and as seen as evidence that "global Growth" may be stirring even as the Fed's new inflation framework allows for higher inflation without concerns of Fed "policy error/overtightening." In other words, we are back to the QE days when "bad news is good news, and good news is great news."