Are Household Shelter Costs Increasing?
On the other hand, 45% in this CoreLogic poll stated owning a home means you have a long term financial commitment which can be a burden. When renting, you will always need to pay to live somewhere, so that expense will always be there. However, if you want to take a lesser paying job that you are more passionate about, you can do so by downsizing to a smaller rental house/apartment. Buying a home is the commitment to paying the bank interest for the life of the loan instead of compounding your investment returns (something we discussed in a previous article titled: Buying/Renting Home vs Investing In Stocks. The one negative is rent costs generally increase. A mortgage locks in your payments, which helps those who expect to see their salary increase. This group of renters who view home ownership as a burden are generally older, less likely to have kids, and have a lower income than average renters.
Shelter CPI Versus Median Household Income
The chart below shows the relationship between shelter CPI for all urban consumers and median household income for Americans. Both are non-seasonally adjusted.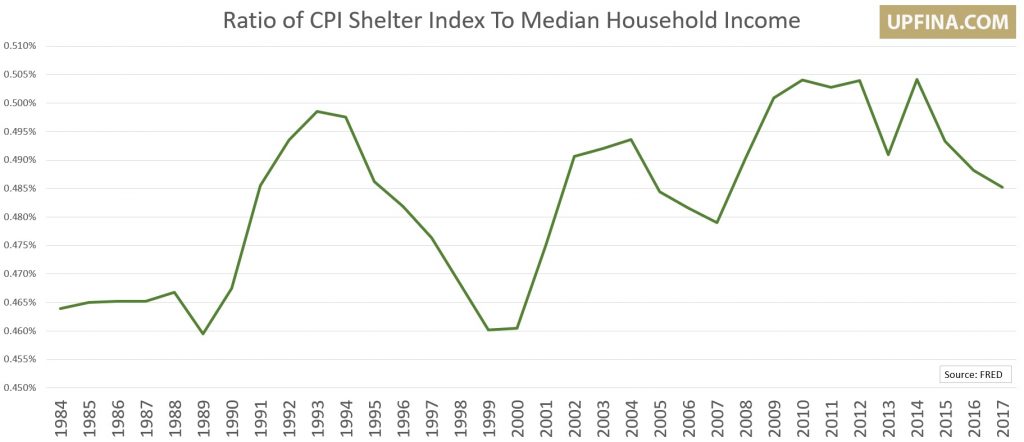 The specific ratio don't matter because we are comparing an index with a dollar amount. However, the historical relationship has value as it shows how expensive shelter is in relation to median household income as compared with the past few cycles. As you can see, as of the last few years, shelter has gotten more affordable relative to household income, but it is more expensive than it was in the 1980s. The data from 2018 will be released in March 2019.
This data is much different from charts that compare average hourly earnings growth with shelter CPI. You can decide which relationship to follow. You should always try to look at information from multiple angles to get the best perspective. We will explain why this chart shows housing looking more affordable.
The growth in household income in the 1980s was helped by women entering the workplace. Average hourly earnings growth doesn't take into account changes to the number of hours worked. Also, averages and medians can't be compared easily. Because the labor market is near full employment, wage growth for low income workers has been higher than it has been middle and upper income workers, so median wage growth is higher than average wage growth. There is also faster growth in multiple income households as the unemployed get jobs.
UPFINA's Mission: The pursuit of truth in finance and economics to form an unbiased view of current events in order to understand human action, its causes and effects. Read about our more