April Is Looking Like It Will Be Even More Turbulent Than March For The Stock Market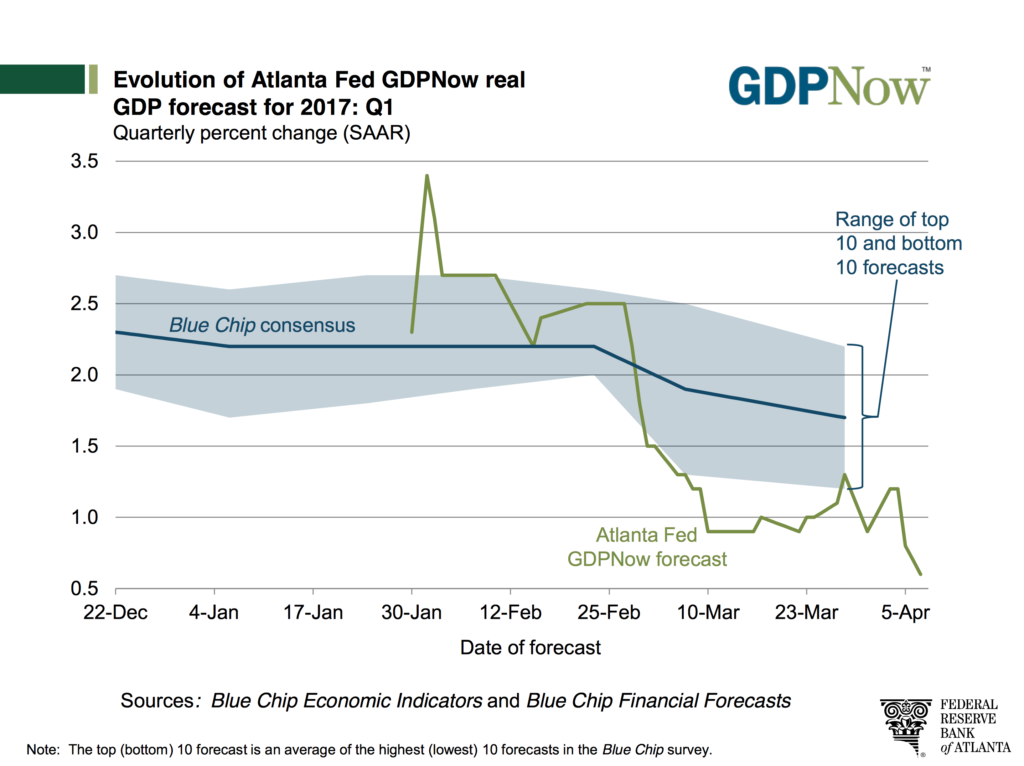 Clearly not the vector or velocity many were hoping would close out the quarter and it led the Atlanta Fed to once again revise its GDPNow forecast for 1Q 2017 lower to 0.6 percent. That's a sharp drop compared to 2.1 percent in 4Q 2016. It's somewhat hard to believe that GDP forecast for 1Q 2017 was more than 3 percent just 12 weeks ago, but if we look back at the first year of a new president's term what we saw was not all that surprising. There tends to be a wave of hope and optimism with a new president, but as history shows the soft data cannot overcome the hard economic data. At some point, the disconnect between the two closes and it tends not to be a pleasant time for investors.
As we have been saying the last several weeks, the warning signs have been there and now we're starting to get warnings signs that yes, expectations for 2Q 2017 and perhaps 3Q 2017 will need to be revised lower as well. We're not talking about the expected push out in tax reform and infrastructure spending, which odds are will weigh on GDP expectations near-term. Rather, we're talking about the deteriorating ability of the consumer to spend and the return of our Cash-strapped Consumer. This past week new data showed:
For the first time since the financial crisis of 2008, credit card debt hit $1 trillion last year. Creditcards.com senior industry analyst Matt Schulz said while Americans are doing a "good job" meeting debt obligations, "eventually with big debts and rising interest rates," delinquencies will rise.
In the last three months of 2016, household debt hit $12.58 trillion according to a report from the New York Federal Reserve Bank.
Student debt that has increased more than fivefold over the past 14 years, the New York Fed said, totaling $1.3 trillion at the end of last year. Recent graduates who borrowed money to finance their degrees leave school with about $34,000 in debt — a 70 percent increase from a decade ago — and about 5 percent of the borrowers have more than $100,000 in debt.
Because the consumer, directly or indirectly, impacts some two-thirds of the domestic economy, a downshift in consumer spending likely means the economy will have a hard time breaking out of the current soft patch. Currently, The Wall Street Journal Economic Forecast Survey of more than 60 economists is calling for 2.5 percent GDP in both 2Q and 3Q 2017. Much like we did in the prior quarter, we'll continue to watch the underlying data to determine how realistic those forecasts are, but as we see it today it's looking like there is more downside than upside.
Given all of that data, as well as Friday's US missile strike on Syria, it's not surprising the stock market finished the week lower. From our view, while the coming week is likely to continue to be No Man's Land, we're likely to see uncertainty climb as the not only the earnings season approaches but also April 28, the deadline for the government to pass a new funding bill lest we once again face another government shutdown.