Apple Warns, Will Downtrend Resume?
The U.S. stock market indexes gained 0.1-0.5% on Wednesday, extending their short-term fluctuations, as the investors' sentiment remained slightly bullish following the recent rebound. The S&P 500 index fell the lowest since the late April of 2017 and it traded 20.2% below September the 21st record high of 2,940.91 a week ago when it reached the new medium-term low of 2,346.58. Then the market rallied and got close to 2,500 mark. The Dow Jones Industrial Average gained 0.1% and the Nasdaq Composite gained 0.5% on Wednesday.
The nearest important level of resistance of the S&P 500 index remains at around 2,500-2,520, marked by the recent local highs. The resistance level is also at 2,530. On the other hand, the support level is at 2,450-2,470, marked by the short-term local lows. The level of support is also at 2,400-2,420.
The broad stock market broke below its two-month-long trading range recently, as the S&P 500 indexfell below the level of 2,600. Then the market accelerated lower and it broke below the level of 2,400. The downward correction reached 20.2% from the September all-time high, surpassing January-February correction of around 12%. Is this a long-term bear market? It still looks like a medium-term downward correction, but the index remains below the recent consolidation, as we can see on the daily chart:
(Click on image to enlarge)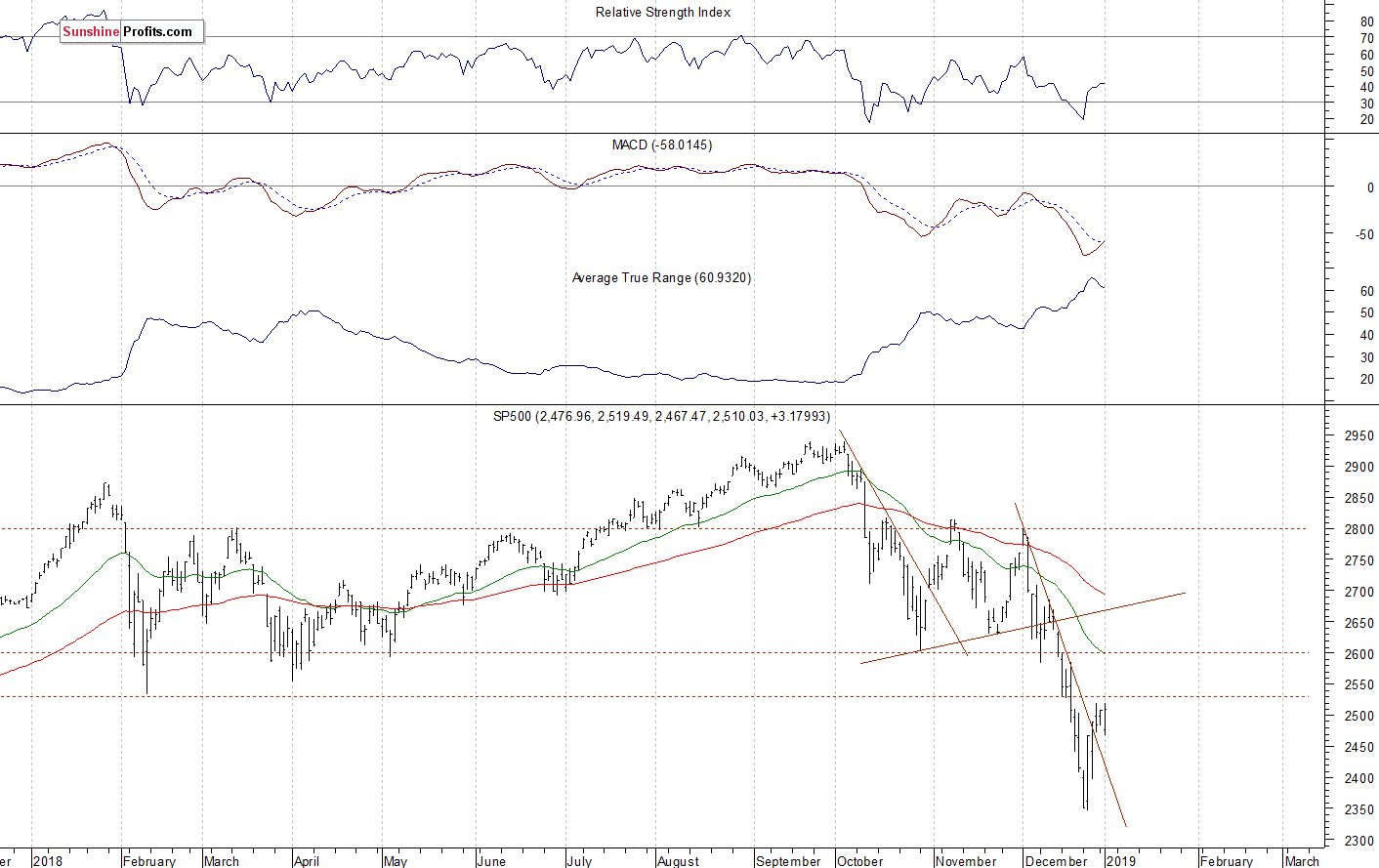 Negative Expectations Again
Expectations before the opening of today's trading session are very negative, because the index futures contracts trade 1.5-2.5% below their Wednesday's closing prices. The European stock market indexes have lost 0.5-1.7% so far. Investors will wait for some economic data announcements this morning: ADP Non-Farm Employment Change at 8:15 a.m., Initial Claims at 8:30 a.m., ISM Manufacturing PMI at 10:00 a.m. The broad stock market may retrace its yesterday's advance today and get back lower following yesterday's after-hours Apple's profit warning release. For now, it still looks like an upward correction within a downtrend.