Another Sell-Off Expected
The U.S. stock market indexes lost 3.1-3.8% on Tuesday, retracing some of their recent advance, as investors' sentiment quickly worsened following the renewed trade war fears. The S&P 500 index trades 8.2% below September the 21st record high of 2,940.91. The Dow Jones Industrial Average lost 3.1% and the Nasdaq Composite lost 3.8% on Tuesday.
The broad stock market quickly reversed its last week's upward course following the S&P 500 index' reversal off the resistance level at 2,800. The market got back to 2,700 mark, as it retraced some of its recent rally. On Tuesday we wrote that it still looks like a two-month-long consolidation following the October rout. That statement remains relevant. The market is extending its medium-term consolidation, as we can see on the daily chart:
(Click on image to enlarge)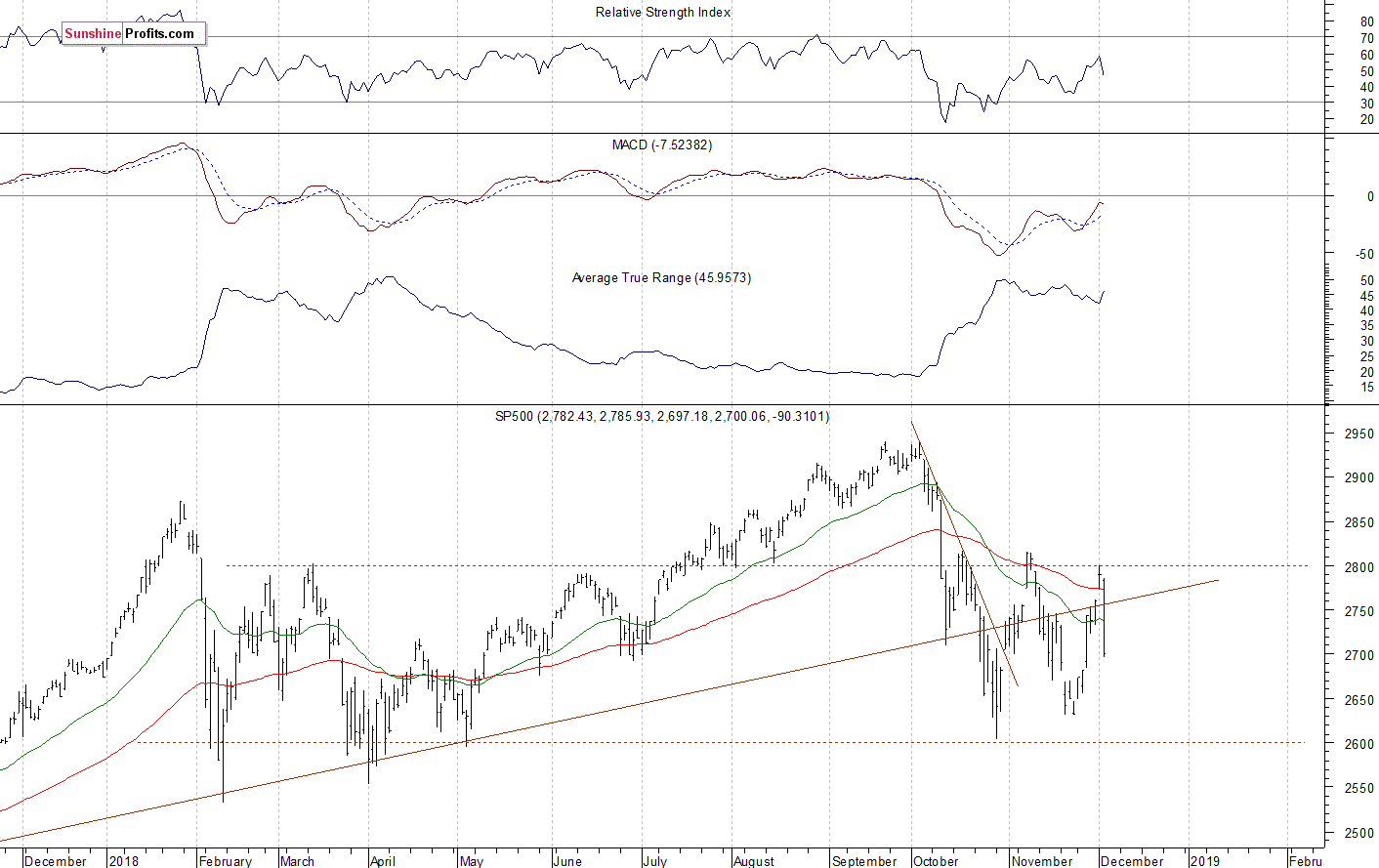 Very Negative Expectations
Expectations before the opening of today's trading session are negative, because the index futures contracts trade 2.2-2.3% below their Tuesday's closing prices. The European stock market indexes have lost 2.5% so far. Investors will wait for some economic data announcements today: Initial Claims, Trade Balance, Nonfarm Productivity at 8:30 a.m., ISM Non-Manufacturing PMI, Factory Orders at 10:00 a.m., Crude Oil Inventories at 10:30 a.m. There will also be a speech from the Fed Chair Powell later in the day. The broad stock market will likely accelerate its short-term downtrend today. The S&P 500 index will probably reach the October-November local lows of around 2,600-2,630. If it breaks lower, we could see further sell-off. However, for now it still looks like a volatile medium-term consolidation following the October decline.
The S&P 500 futures contract trades within an intraday downtrend, as it retraces an overnight rebound following much lower opening of the trading session. The nearest important level of support is at around 2,625-2,650. On the other hand, the resistance level remains at 2,680-2,700. The futures contract broke below the level of 2,700, as the 15-minute chart shows: