EC

…And That's What A Reversal In Gold Looks Like
The combination of reversals that we are approaching is truly exceptional. Four different markets, many different lines and they all point to the same time-frame in which we should see a reversal of huge importance. It seems that the markets almost can't wait. Are these already the first baby steps of the huge move that is to follow, or will we see one additional tricky move before THE reversal itself takes place?
Before replying, let's take a look at the charts.
Precious Metals' Reversals
(Click on image to enlarge)

Gold formed a bearish shooting star reversal, then a doji, which is also a sign of reversal, and then it declined by a bit.
(Click on image to enlarge)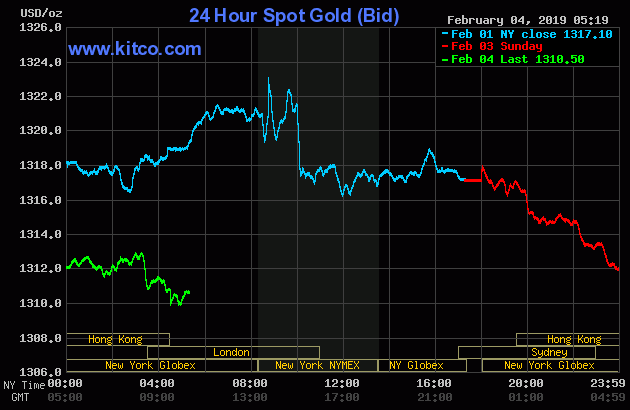 It's also been declining in today's pre-market trading. At first sight, this seems bearish. And this time, the first impression is correct – these are the signs of reversal taking place. The RSI above 70 confirms that we are indeed looking at a top.
Gold did move above the June high, but it was able to do so only after very dovish comments from the Fed and the size of the move actually should have been much greater. Gold had little choice but to rally given the importance of the announcement, but the size of the move is what tells us a lot. Why didn't gold move higher? Because the rally is running out of steam. And there are multiple factors ready to come into play when gold finally reverses that will make sure that the following decline is huge.
On a short-term note, we could still see another move to the recent highs, but this is far from being certain.
(Click on image to enlarge)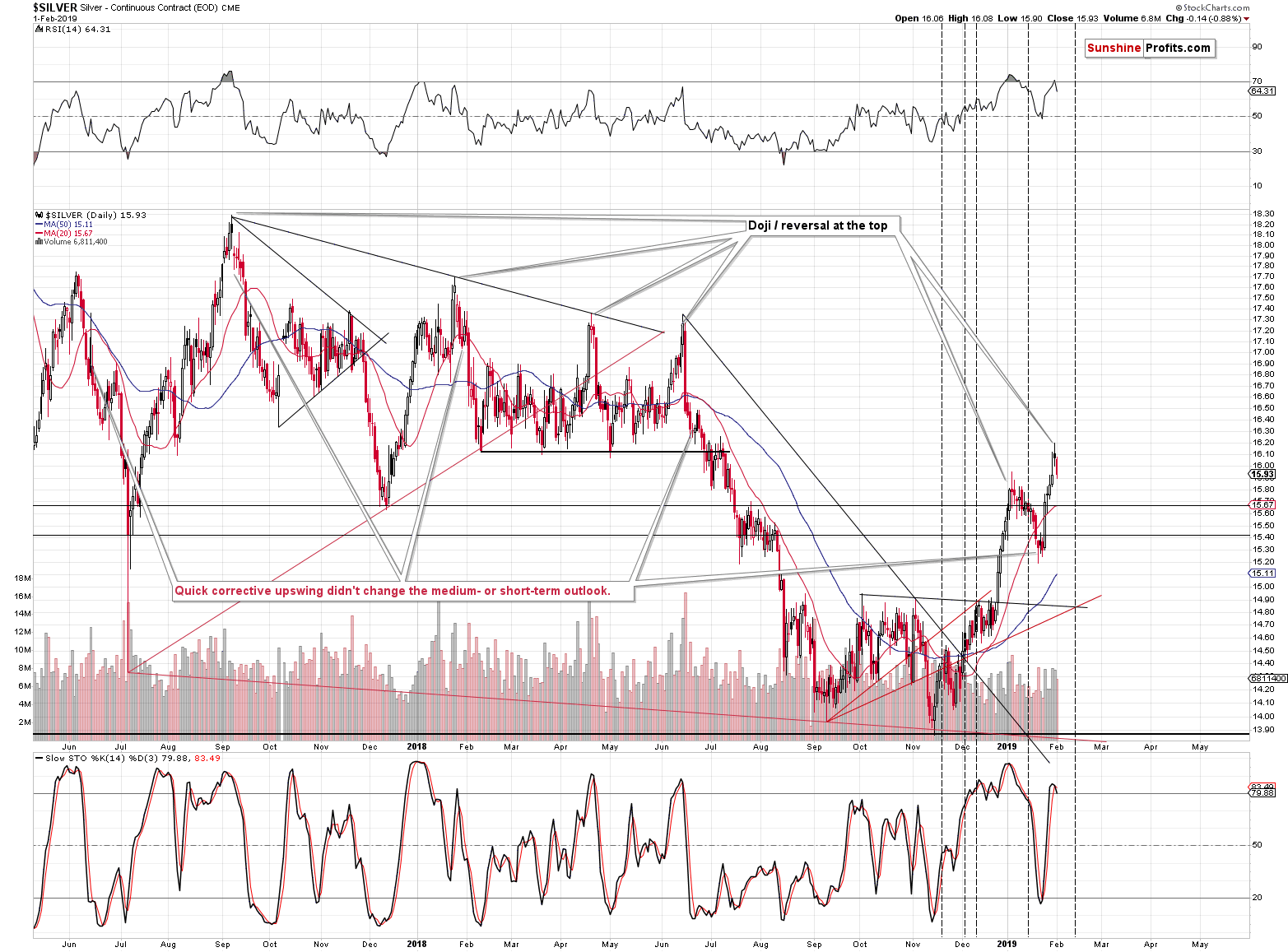 The reversal process is even clearer in the case of silver. Especially when we factor in today's pre-market decline.
(Click on image to enlarge)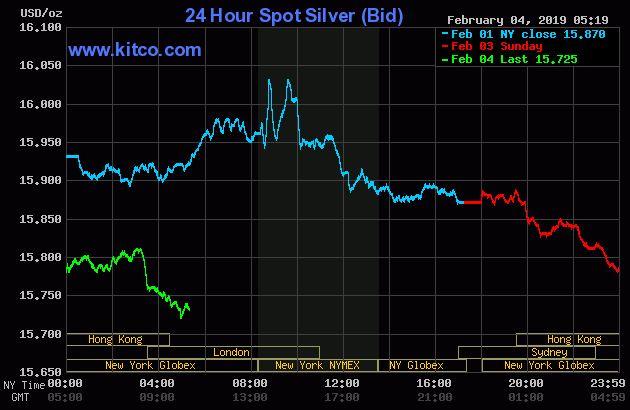 Silver moved above the early 2019 high, but not significantly so, and right now it's back below the early-January intraday high. The only similar situation is what happened in early 2018. That's when silver moved briefly above the previous local highs, topped (higher silver prices were never seen since that top), and then declined in a quite specific manner.
It first moved back below the early highs (just like what we see right now) and then one more time (precisely, there were two intraday attempts) tried to rally. That was the final chance to go short. A repeat of this scenario fits the upcoming reversals particularly well.
(Click on image to enlarge)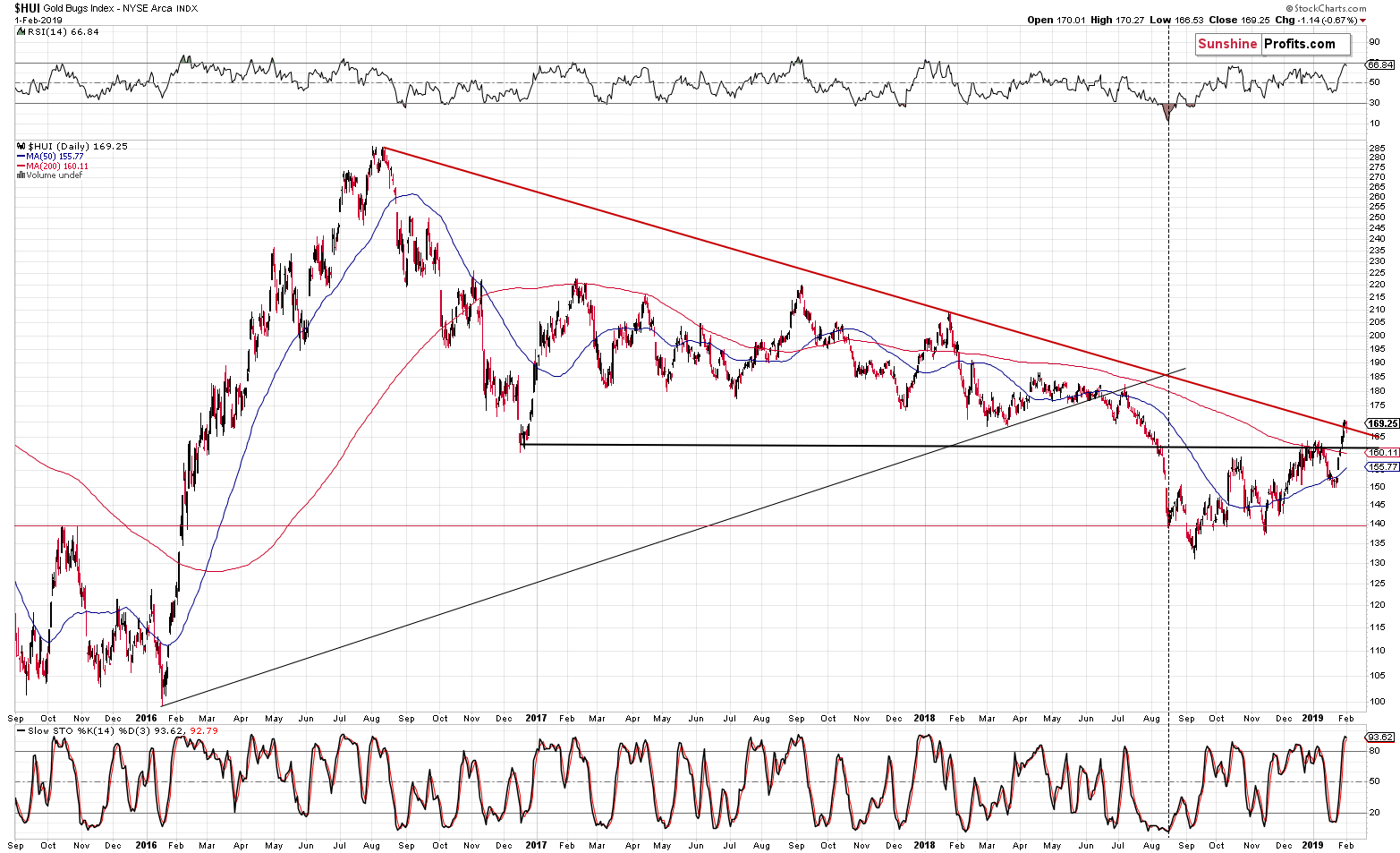 (Click on image to enlarge)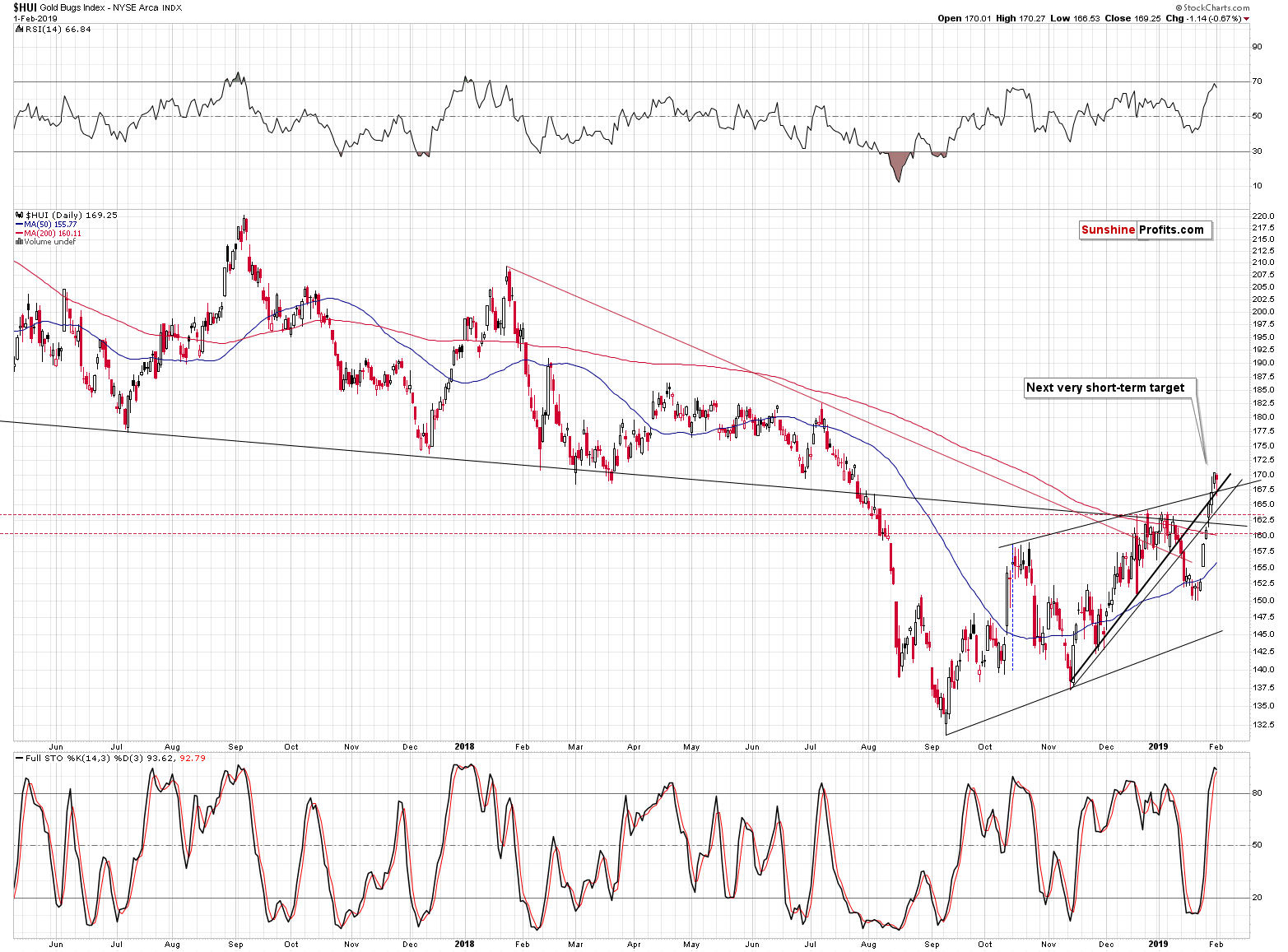 Gold stocks managed to close above their resistance level for the second day in a row, but given today's pre-market move in gold, it seems that this breakout will be invalidated shortly. Invalidations of breakdowns are strongly bearish developments, which will likely result in even lower prices. And that's how the reversal in the mining stocks might form. There could be another move higher before THE decline starts, but the invalidation of the breakout will already serve as a confirmation of what's to come.
Disclaimer: All essays, research, and information found on the Website represent the analyses and opinions of Mr. Radomski and Sunshine Profits' associates only. As such, it may prove wrong ...
more