Akcea, A Wholly Owned Subsidiary Of Ionis Pharmaceutical, Set To IPO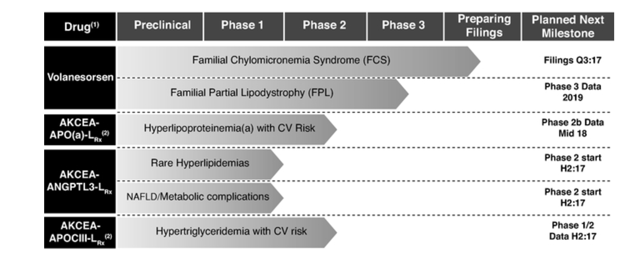 (S-1/A)
Executive management team overview
Paula Soteropoulos joined Akcea as its chief executive officer, president and a member of the board of directors in Jan. 2015. Previously, she served as a member of the executive team of Modernan Therapeutics Inc., as the general manager of its cardiometabolic business unit, and as a senior vice president of strategic alliances from July 2013 to Dec. 2014. Additionally, Soteropoulos has 21 years of experience working at Genzyme Corporation in a variety of leadership roles.
Jeffrey M. Goldberg joined Akcea as the chief operating officer in Jan. 2015. Previously, he served as a member of the executive team at Proteostasis Therapeutics Inc. (NYSE:PTI) as well as its vice president of business operations. Goldberg also spent eleven years in different positions at Genzyme and Sanofi S.A. (NYSE:SNY).
Financial highlights and risks
Currently all of its product candidates are pre-commercial sale. As noted previously in January 2017, Akcea initiated a strategic collaboration with Novartis and received $9.6 million in revenue during the first quarter of 2017.
Net losses were $30.0 million, $61.4 million and $83.2 million for the years ended December 31, 2014, 2015 and 2016, respectively, and $16.0 million and $60.4 million for the three months ended March 31, 2016 and 2017, respectively. The significant jump up in net losses during the most recent quarter was the result of a $48.4 million sublicensing expenses related to its collaboration with Novartis.

(S-1/A)
To date, the company has funded operations through a $100.0 million cash contribution from Ionis, $75.0 million from initiating its collaboration with Novartis, and $106.0 million from drawdowns under a line of credit with Ionis. As of its IPO, AKCO has cash and cash equivalents of $124.5 million and an accumulated deficit of $235.0 million.
The company intends to use its proceeds from its IPO and private placement primarily for research and development, as well as for the completion of its clinical phases; the remainder will be for the company's expenses.
Disclosure: I/we have no positions in any stocks mentioned, but may initiate a long position in AKCA over the next 72 hours.
Disclaimer: I wrote this article myself, and it ...
more