Above The 40 – The Stock Market Hits A New Bearish Divergence
AT40 = 39.9% of stocks are trading above their respective 40-day moving averages (DMAs)
AT200 = 58.3% of stocks are trading above their respective 200DMAs
VIX = 12.3 (volatility index)
Short-term Trading Call: neutral
Commentary
From a technical perspective, my last "Above the 40" post made as detailed a case as I can make to describe the erosion of the stock market's foundations. Today, that erosion expressed itself in a new bearish divergence that I find remarkable. (The latest bearish divergence was invalidated by the S&P 500's big mid-February breakout). The S&P 500 (SPY) bounced perfectly off support at its uptrending 20-day moving average (DMA) and closed with the slightest gain. Yet, AT40 (T2108), the percentage of stocks trading above their 40DMAs took a plunge to 39.9%. AT200 (T2107) took a dive to 58.3%.
(Click on image to enlarge)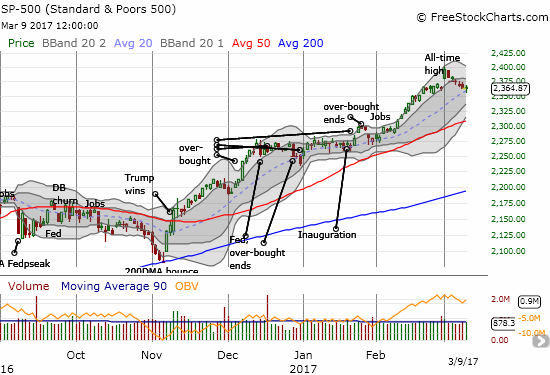 Sellers in the the S&P 500 (SPY) took their time again. This time, they failed to log a negative close. The index even looks poised for a bounce off 20DMA support.
(Click on image to enlarge)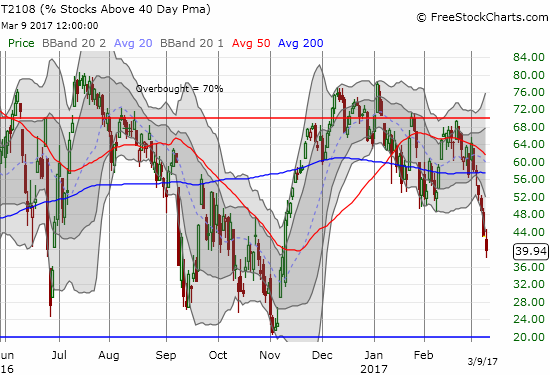 AT40 (T2108) plunged to close below 40% for the first time in 83 trading days.
(Click on image to enlarge)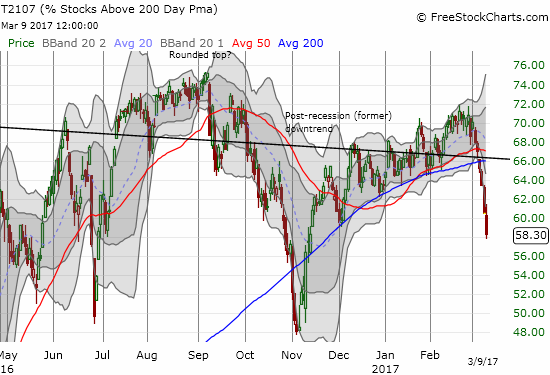 AT200 (T2107) once again confirmed the reversing momentum with an exclamation point.
The current pullback in the S&P 500 continues to look orderly and subdued. The index crossed my line into bearish territory but bounced above it into the close. So while the S&P 500 completed a reversal of its last bullish breakout, I still cannot flip my trading call to bearish.
While the S&P 500 drips ever so slowly, the descents in both AT40 and AT200 appear breathtaking. At its low of the day, AT40 finished reversing its ENTIRE post-election gain (coincidence AT40 bounced perfectly off its close from November 8, 2016?). At 39.9%, AT40 is officially within "striking distance" of oversold conditions. AT200 last closed as low as 58.3% on November 10, 2016. If the S&P 500 were to pullback even by a few percentage points over a few days, I am pretty sure I will be talking about the prospects for oversold conditions.
Full disclosure: long UVXY call options, long SNAP, long QSR
Follow Dr. Duru's commentary on financial markets via more