Above The 40 – No Follow-Through For The S&P 500's Reflex Bounce
AT40 = 38.6% of stocks are trading above their respective 40-day moving averages (DMAs)
AT200 = 48.0% of stocks are trading above their respective 200DMAs
VIX = 11.3
Short-term Trading Call: neutral
Commentary
The S&P 500 (SPY) is suddenly struggling at its 50-day moving average (DMA). The big reflex bounce from Tuesday, August 22nd has yet to receive confirmation. On Friday, the index faded from resistance.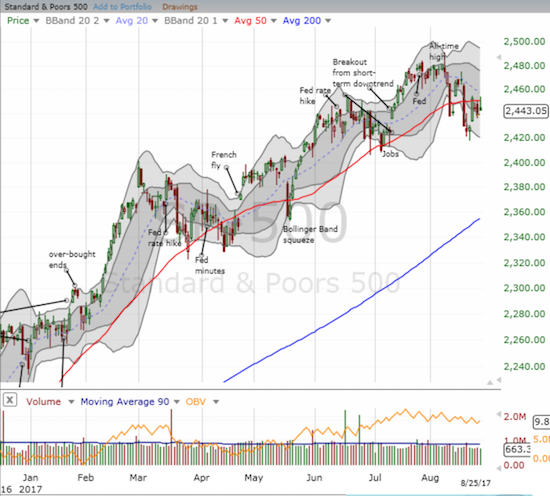 Time is ticking on the S&P 500 as its 20DMA declines into its struggles with 50DMA resistance.
Interestingly, the Nasdaq is struggling with its 50DMA as a pivot while the PowerShares QQQ Trust (QQQ) is bouncing on top of its 50DMA like support and under its downtrending 20DMA as resistance.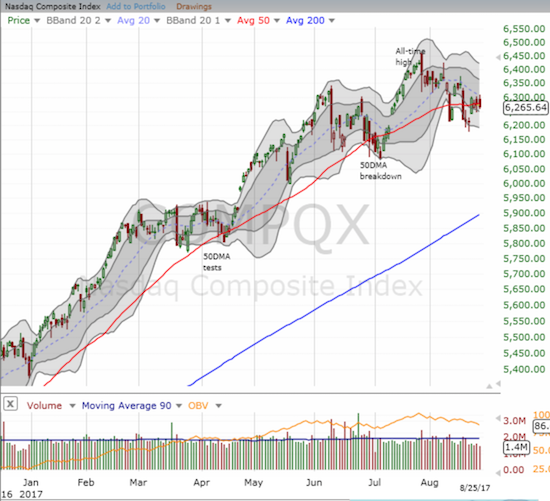 The Nasdaq is pivoting around its 50DMA.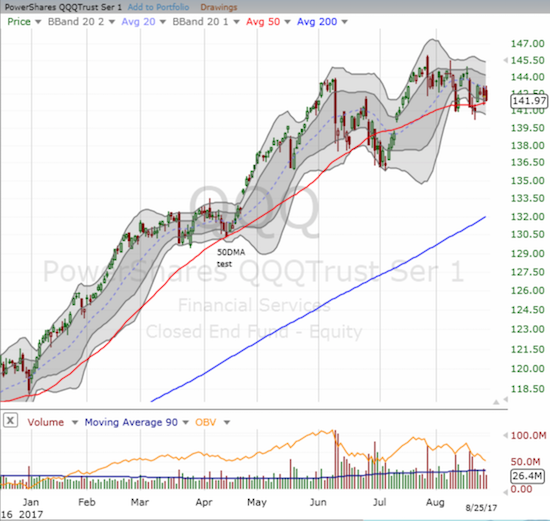 The PowerShares QQQ Trust has found plenty of support at its 50DMA throughout August.
In these fuzzy situations, AT40 (T2108), the percentage of stocks trading above their respective 40DMAs, can provide a deciding insight. My favorite technical indicator was a clear bullish sign as it bounced from "close enough" to oversold levels in the low 30%s and avoided a daily loss the entire week. AT40 even at one time nearly reversed its entire loss from the big plunge on August 17th. Still, my short-term trading call stays at neutral as I await definitive confirmation from the S&P 500 with a close above 2,475 (the peak of a topping pattern).
Along with the neutral call comes my hedges in the form of call options on ProShares Ultra VIX Short-Term Futures ETF (UVXY) and put options on ProShares Short VIX Short-Term Futures ETF (SVXY). Both are wasting assets as the volatility index (VIX) rapidly returned to extremely low levels. The VIX closed at 11.3 and confirmed a complete reversal of the North Korea fears from August 10th.
With concerns over North Korea returning to the background, the market may next choose to worry about the growing potential of a government shutdown. I am very skeptical of this latest political drama: the scene seems draped in a big bluff. President Donald Trump simply needs to demonstrate to his base that Congress blocked his effort to build a wall at the U.S.-Mexican border (nevermind that the President's latest threats would force U.S. taxpayers and not Mexico to pay for the wall). As a result, I will be looking to fade any coming VIX spikes driven by headlines of a government shutdown.
Disclosure: short put options on SYY and KR, long PI, long SNAP, long UVXY calls, long SVXY puts, long ULTA call
Follow Dr. Duru's commentary on financial markets via more