Above The 40 – A Scramble To Catch Up As Stock Market Flips Overbought
AT40 = 71.1% of stocks are trading above their respective 40-day moving averages (DMAs) (first overbought day)
AT200 = 57.9% of stocks are trading above their respective 200DMAs (a 4-month high)
VIX = 12.4
Short-term Trading Call: bullish
Commentary
After 92 trading days, the stock market is finally overbought again.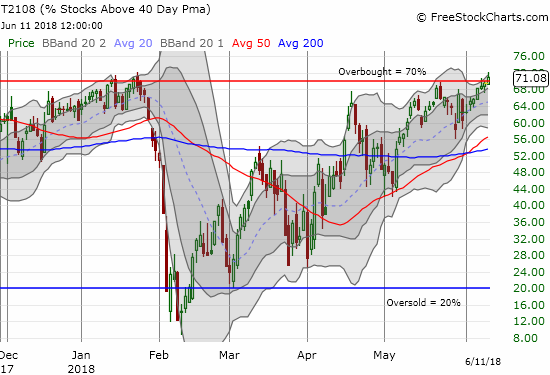 After a few close calls since April, AT40 (T2108) finally closed above the overbought threshold at 70%. Hopefully this trip to across 70% will end better than it did in February.
The last overbought period ended very poorly as it gave way to the February swoon, so this achievement is both good news and bad news. This time around, the overbought period could sustain an extended overbought rally because the stock market comes to this juncture with very divergent performances. Going into the last overbought period, the entire global financial system seemed like it was synchronized and locked into bullishness. Not this time; upside opportunities abound for playing catch-up.
By rule, the flip into an overbought period flips me to bullish (from neutral). This is a market full of churn, so I am fully aware of the downside potential and getting forced to downgrade. The formula for switching to bearish after the end of an overbought period changes based on the context. Given the amount of swirling catalysts, I will be quick to flip to bearish if AT40 closes below 65% AND the S&P 500 (SPY) closes below its upper-Bollinger Band uptrend channel. A blow-off topping pattern in the middle of an overbought period is an automatic trigger to flip bearish.
The S&P 500 hid the overbought milestone well. The index only gained 0.1% and faded from its high of the day. Not a good start!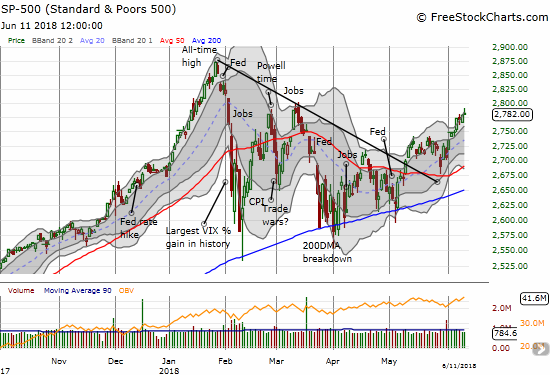 The S&P 500 (SPY) was a reluctant participant in yesterday's overbought milestone.
The volatility index, the VIX, refused to cooperate by actually gaining 1.4% on the day. I am not surprised that the VIX is staying aloft given all the political, macro, and monetary events of this week. In fact, I am more surprised the VIX is not much higher as a result. I bet on volatility spike going into and/or post the Fed, but the market currently looks extremely comfortable with all the uncertainties. As a reminder, this low VIX means that buying protection (put options) is very cheap.
Disclosure: Long UVXY calls.
Follow Dr. Duru's commentary on financial markets via more