Above The 40 – A Bearish Divergence Clouds Encouraging Bounce Away From Oversold
AT40 = 23.0% of stocks are trading above their respective 40-day moving averages (DMAs) (low of 18.9%)
AT200 = 22.6% of stocks are trading above their respective 200DMAs (new 32-month low)
VIX = 22.6 (as high as 25.9)
Short-term Trading Call: cautiously bullish
Commentary
It was a wild day in the stock market, but the market still avoided closing in oversold territory. AT40 (T2108), the percentage of stocks trading above their respective 40DMAs, dropped to 23.0%, a fraction below its lowest close at the end of November's sell-off. At one point, AT40 WAS oversold with an 18.9% reading (oversold is below 20%). AT200 (T2107), the percentage of stocks trading above their respective 200DMAs, dropped to a new 32-month low at 22.6%. Still, the S&P 500 (SPY) managed to close with a fractional gain of 0.2%. The index traded as low as 1.9% below the previous close as sellers took early control of the stock market.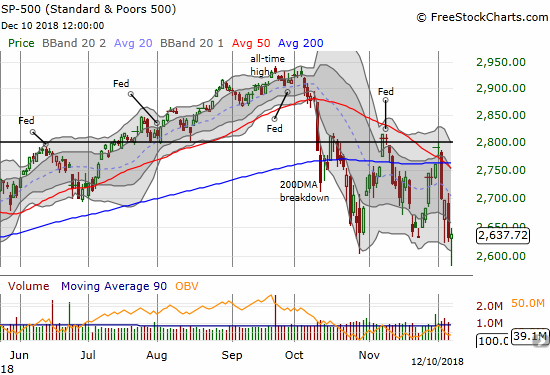 The S&P 500 (SPY) rebounded sharply and clawed its way back to the recent lows. The intraday low retested the double-bottom closing lows from February and April.
The bad news is that the divergence between AT40 and the S&P 500 is bearish. I was looking for a bullish divergence with the exact opposite relationship; bullish divergences market the end of the last two selling periods. AT200's new 32-month low is a brighter red flag indicating that the selling is far from over in the short-term. If buyers follow-through on the S&P 500 and carry AT40 and AT200 along for the ride, I will get incrementally more confident in the short-term outlook.
The Nasdaq and the Invesco QQQ Trust (QQQ) out-performed the S&P 500. Both tech laden indices are still off their November lows, although the Nasdaq came close to a retest. With the bearish divergence, I am still expecting a true test of the November lows if not an outright breakdown.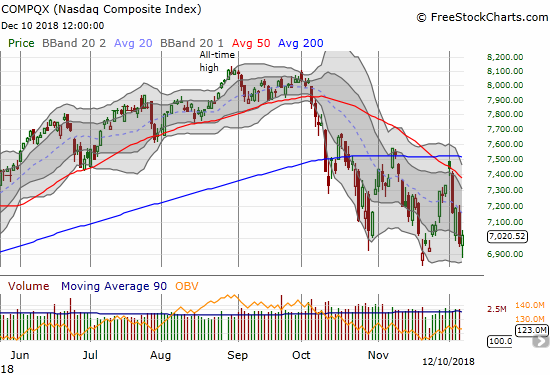 The Nasdaq gained 0.7% on the day after its intraday low slipped past the closing low of this selling cycle.
Disclosure: long AAPL calls, calendar call spread, put spread; long ITB calls, long QQQ calls, long UVXY put
Follow Dr. Duru's commentary on financial markets via more