A Look Back At An Eventful Year And Forward To 2021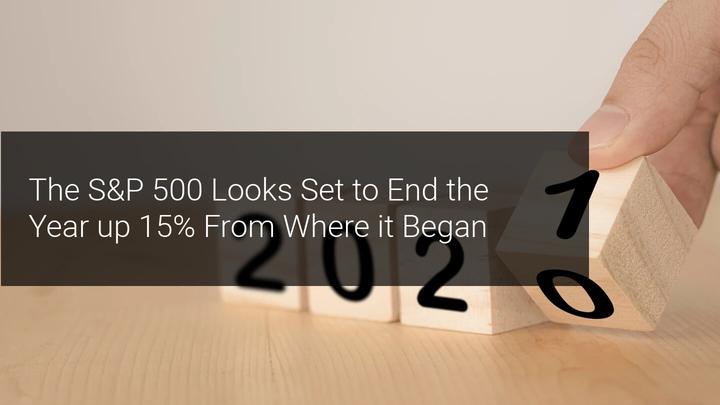 In a few hours we will all begin to say goodbye to 2020; for most of us the most eventful year in living memory.
COVID was, of course, the dominant theme of year – but not the only one.
US Politics
February saw the impeachment trial of Donald Trump, only the third US President in history to suffer this fate. The President was found guilty in the Democrat-controlled House of Representatives and acquitted by the Republican-controlled Senate.
Attention quickly moved onto the Democratic primaries, where Joe Biden struggled in the early rounds in a wide field of candidates but pulled ahead after winning S. Carolina.
George Floyd was killed in late May, sparking hundreds of BLM demonstrations, and anti-demonstrations, that convulsed the country for months.
November 3rd brought us the election and the subsequent questioning of the results, which though diminished still rumbles on.
Against these headwinds, and COVID, it is amazing that the US markets performed as positively as they did. The S&P 500 (SPX) closed yesterday at 3,732.77 – 15% up for the year and almost 48% up on its low point on the 23rd of March.
Depicted: Admiral Markets MetaTrader 5 - SP500 Daily Chart. Date Range: 31 December 2019 - 31 December 2020. Date Captured: 31 December 2020. Past performance is not necessarily an indication of future performance.
Going forward, lookout for Georgia's Senate re-run on the 5th of January. This will determine whether or not Democrats get to control the Senate, as well as the House of Representatives and the Presidency. That scenario would make a larger stimulus more likely which would have a downward impact on the dollar but probably a positive impact on consumption and the real economy.
UK Politics & Brexit
The consensus view at the beginning of the year was that a trade deal with the EU was very likely to get done. However, the mood gradually soured and for several weeks in November and December everything seemed to hang in mid-air. In the end, an agreement was announced on Christmas Eve, to the relief of the markets.
Disclaimer: The given data provides additional information regarding all analysis, estimates, prognosis, forecasts or other similar assessments or information (hereinafter "Analysis") ...
more