EC

A Different Look Behind The Retail Apocalypse
(Click on image to enlarge)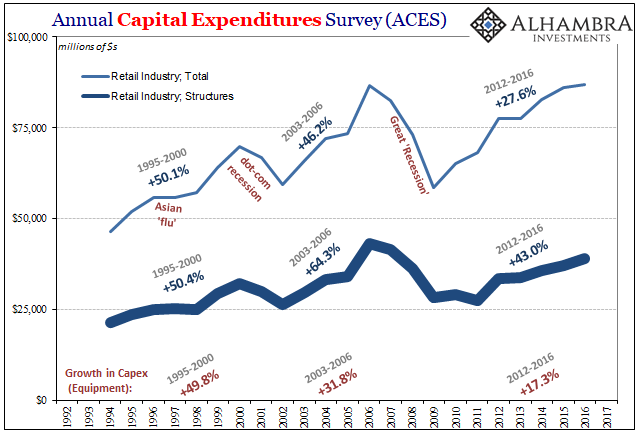 In those same slowdown years, 2012 to 2016 (inclusive), capex in structures increased 43% including continued growth in 2016. That's about the same annual pace as during the late nineties. In the middle 2000's, retailers had simply lost their minds, producing a great deal of the overhang that the apocalypse speaks of today. In just those four years, 2003 to 2006 (inclusive), capex in structures surged by an insane 64%.
These numbers are consistent with the idea that the retail industry over-expanded and are suffering for it. The real question is why, particularly since this is in sharp contrast to the industry's behavior in equipment.
(Click on image to enlarge)
I think the answer is Economists and Economics, not Amazon. If capex on the equipment side is more closely related to actual, current conditions, an increase in store count and the building of additional square footage relates more to expectations about the future.
There has been, especially since 2011, a massive chasm between the proposed sets of circumstances in those two timeframes unlike any other we have ever seen (or anything I've ever read about in economic history). No matter how prolonged the current malaise, how much time it goes on and on when it's not supposed to, Economists are always, forever certain it will end next year; and then, they repeatedly claim, things will really take off.
In short, it appears as if retailers have invested in equipment based on the pitiful state of the economy today, but then have contributed even more overbuilding in new structures based on the economy Economists always claim "will be." Because that economy never actually shows up, the retail apocalypse is now at hand (for another year).
And it isn't just limited to the past six years, either. This goes back to the middle 2000's, too. I don't think it mere coincidence that the ACES data peaks for structures in 2006 – the peak of the housing bubble. The interruption that became the Great "Recession" was equally "unexpected" as was the middling (at best) labor market of that era forward.
Even though retailers have been building less now than they did in the middle 2000's, the fact that they are building at such a steep pace anyway despite the scale of that prior imbalance can only contribute that much more to the imbalance. A far more reasoned approach to the aftermath of the Great "Recession", in my view, would have been to refrain from most new structures until that overhang had been fully absorbed, no matter how long it might have taken (given the actual record, that might have been a very long time). To be so prudent would have required, of course, a more realistic assessment of the future – which is now our lengthy, undesirable past.