EC

A Different Look Behind The Retail Apocalypse
Among the many surveys in its arsenal is a little-known supplement to the Economic Census. Every year, the agency conducts the Annual Capital Expenditures Survey, or ACES. As with most others, participation is mandatory under US Code, Title 13.
Making up the survey are 50,000 businesses with paid employees pulled from the Business Register, including all who employ more than 500 workers. An additional 20,000 strong sample is generated from among nonemployer firms.
As the name proposes, the purpose is to obtain information about capital expenditures. Dating back to 1994, these estimates are further broken down according to business size as well as by industry (noting some classification changes over the years).
That means we have pretty comprehensive figures about how the retail industry in particular has been investing in its productive, or unproductive, capacities through almost a quarter century.
(Click on image to enlarge)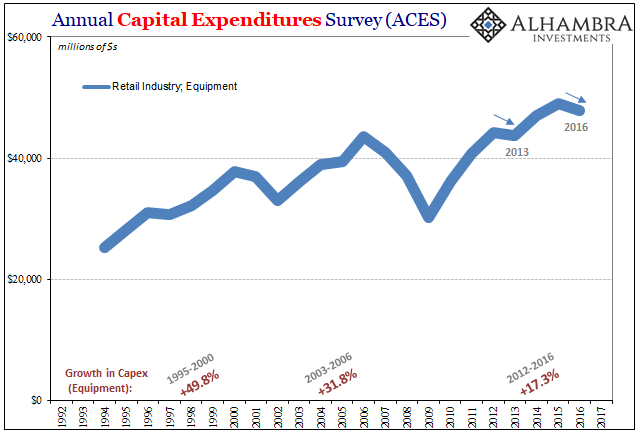 (Click on image to enlarge)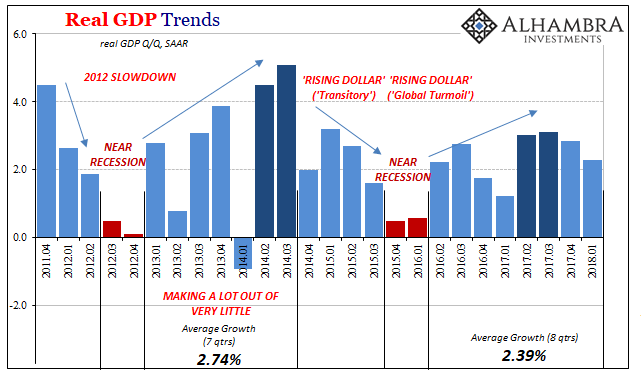 Capital expenditures according to ACES are classified as either relating to equipment or relating to structures (including the refurbishment of existing buildings). What stands out in the first segment, equipment, is that the retail industry appears to have spent less in 2016 (the latest data) than in 2015.
That wasn't Amazon, that was all "dollar." Retail sales were throughout 2015 and early 2016 among the lowest in the data series apart from 2008 and 2009. It makes sense in macro terms that retail businesses would be cautious and reluctant to invest during 2016 given the "unexpected" (and still unconfirmed, in a mainstream sense) economic downturn they experienced.
It was a repeat of the stumble in 2013, which also followed an "unexpected" (and still unconfirmed) downturn in 2012.
The overall trend here matches the overall economic slowdown that has been largely uninterrupted since 2011 (broken only by limited upswings in 2013, 2014, and 2017). Capex spending is noticeably lower since that broader weakening took hold. From the end of 2011, equipment investment has risen only 17% total, compared to a 32% increase in the "boom" years in the middle 2000's and a nearly 50% gain during the late nineties.
(Click on image to enlarge)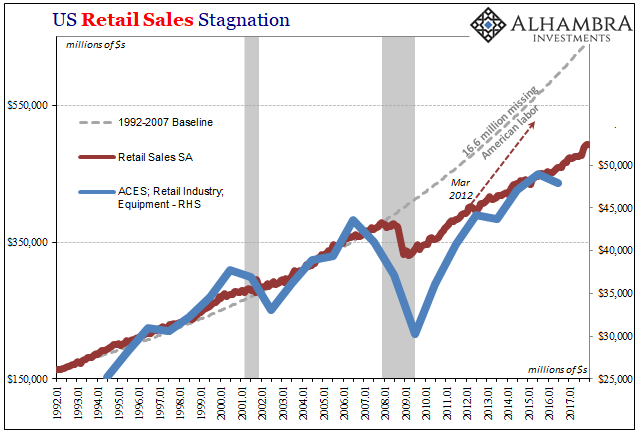 These figures suggest that retailers are, in fact, paying attention to the state of the economy as it is rather than the one we all keep hearing about, and have heard about since 2011.
But it's in sharp contrast to the other side of the ACES report. In terms of structures, the vast majority of which relates to new building rather than upgrades to existing facilities, retailers have behaved with far more profligacy.