A Classic Accumulation Phase Of Price Action For GE
The weekly chart for GE is one which delivers a classic lesson in the accumulation phase of price action, and as regular readers will know, a stock we have been following closely over the last few months. Patience as always is required after such an extended move lower, but that patience is now being rewarded with a solid move higher and a return to double figures for GE.
(Click on image to enlarge)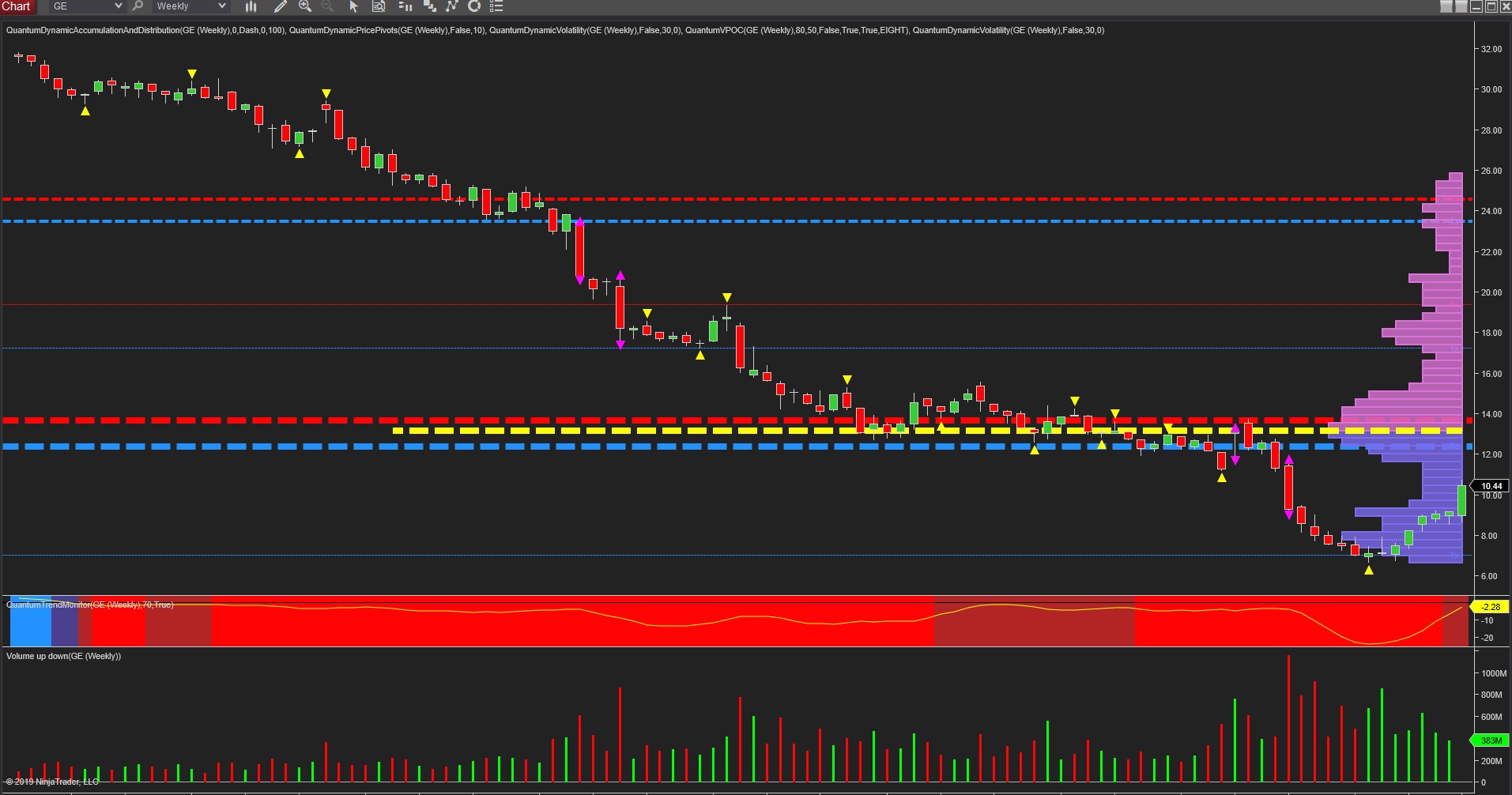 The extreme buying of November and early December is clearly signaled on the weekly chart, with high volume narrow spread down candles marking the points at which the market makers have stepped in to absorb the selling pressure and buy in volume. The rally has now begun in earnest with the stock trading through the $10.00 level and into an area of low volume congestion which should see the price move higher relatively quickly as there is little in the way of either price or volume resistance. The key for the longer term is now the very deep areas of resistance which lie ahead between $12 and $14 where the volume point of control sits (yellow dashed line) with some extensive price resistance also in this area and denoted with the blue and red dashed lines of the accumulation and distribution indicator. Any move through here will require a sustained and rising volume in line with the price action, but we can expect consolidation at the $13 level in due course, before any resumption in the longer term bullish trend then develops further.
Note also the trend monitor has now transitioned to dark red, and signaling this reversal in sentiment with the yellow trend line rising back to the fulcrum of zero on the indicator.
It's been a relentless move lower, but now with the accumulation phase completed, expect to see GE continue to rise in the longer term driven also by the better than expected results released earlier today.
Disclaimer: Futures, stocks, and spot currency trading have large potential rewards, but also large potential risk. You must be aware of the risks and be willing to accept them in order to invest in ...
more