70% Of Q1 2019 Earnings Estimates Cut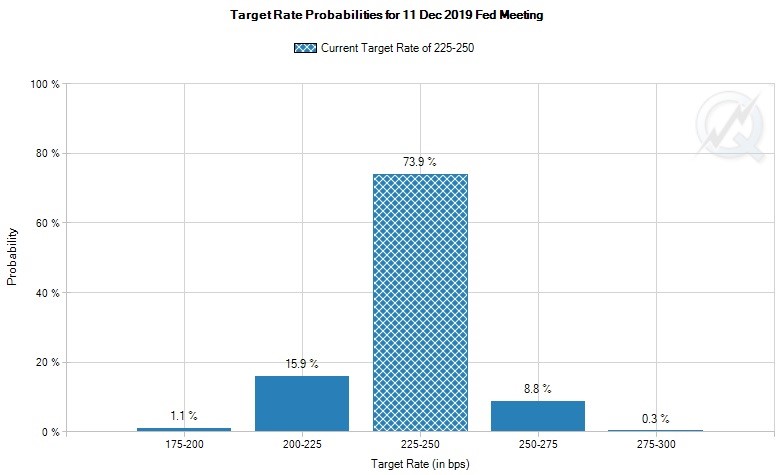 Source: CME Group
There's only a 0.3% chance rates are between 2.75% and 3% after the December 2019 meeting. There's a 73.9% chance rates stay the same this year.
In the Minutes, the Fed stated, "With an increase in the target range at this meeting, the federal funds rate would be at or close to the lower end of the range of estimates of the longer-run neutral interest rate, and participants expressed that recent developments, including the volatility in financial markets and the increased concerns about global growth, made the appropriate extent and timing of future policy firming less clear than earlier."
The Fed is on the same page as traders who were selling stocks in December 2018. It sees the landmines that are slowing global growth and the trade war. We just mentioned how Germany and China are seeing weakness. The Fed won't hurt stocks, but that doesn't mean stocks can reach new highs because the negative catalysts still need to turn around. There needs to be a trade deal. Bullish investors hope the Chinese stimulus will boost the nation's growth in 2019.
Conclusion
Q4 2018 earnings reports have been terrible because guidance has been bad. The rate of change in 2019 EPS estimates is negative, but growth is still expected to be in the mid-single digits. The U.S. labor market is strong as even the lowest paying jobs are seeing strong wage growth. Global economic growth is slowing as Germany and China had a bad Q4. The Fed is open to not hiking in 2019. That's good because the market only thinks there's a 9.1% chance of a hike this year.
Disclaimer: Please familiarize yourself with our full disclaimer here.