70% Of Q1 2019 Earnings Estimates Cut
Your outlook on stocks should be based on macroeconomics and valuations. Prices move quicker than the data. Sentiment shifts wildly. An example of how to approach stocks can be explained with narratives. For example, at the end of 2018 when stocks were near their lows you could've said that economic growth was weakening and earnings estimates were falling, but GDP growth and earnings growth in 2019 were still expected to be positive. You put a positive spin on the narrative because stocks were falling off a cliff and valuations were cheap. Now that the S&P 500 has rallied about 10% off the Christmas Eve low, the narrative has changed even though the economic picture has stayed mostly the same. Now you can say stocks shouldn't approach the September high based on collapsing earnings estimates. The situation isn't dire yet, but it has worsened in the past few months.
It's still too early to judge the Q4 2018 earnings season, but the results don't look promising because of the cuts to Q1 2019 estimates. Analysts are basing their cuts on company commentary and guidance.
As you can see from the table below, the first 20 S&P 500 firms to report Q4 results have had 27.64% EPS growth.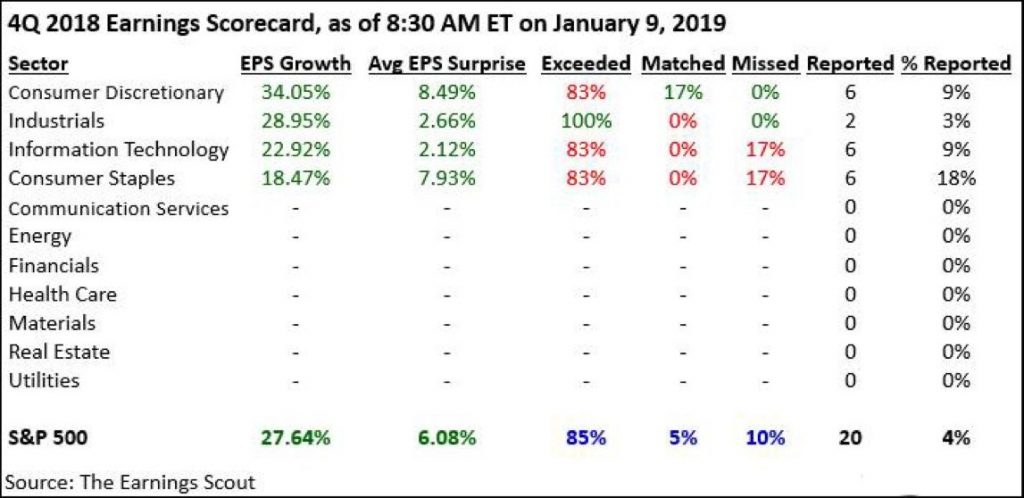 Source: The Earnings Scout
The average surprise rate is 6.08% as 85% of firms have beaten estimates. Even with great Q4 results, 70% of firms had their Q1 estimates cut by an average of -5.62%. This is a disaster as companies are worried about the slowing global economy and the trade war. The sales results are similar. Sales growth is 10.42%. The average beat rate is 0.31%. 60% of firms beat sales estimates. It's important to note that the slower sales and earnings growth in 2019 aren't the problem. The problem is the rate of change of estimates.
More Earnings Gains For The Bottom Rung
Whenever a great jobs report is released, one of the first questions skeptics ask is if the jobs were of high quality. The good news is the pay of some of the 'lower quality' jobs is increasing. As you can see from the chart below, the average hourly earnings from leisure and hospitality jobs as a percentage of total non-supervisory jobs is increasing. This is impressive because non-supervisory wage growth has been accelerating.
Disclaimer: Please familiarize yourself with our full disclaimer here.