5 Double-Digit Dividend Increases Coming In February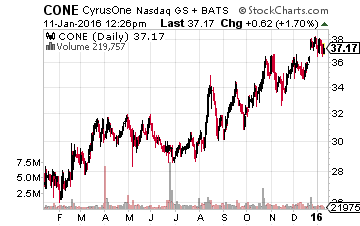 First Industrial Realty Trust, Inc. (NYSE: FR) acquires, owns, and leases out industrial properties used by light industrial, warehouse, and R&D companies. The company has grown its dividend by 50% over the last two years, including a 24% increase last year. For the first nine months of 2015, FFO per share was up 7%. Company guidance is for a good fourth quarter, which should boost FFO for the full year to a 10% increase over 2014. First Industrial pays out about 50% of FFO as dividends. It looks like investors will get a high single-digit to low double-digit dividend increase this year. The new dividend rate is announced with the fourth quarter earnings report that comes out in the second half of February. Record date will be the end of March with a late April payment date. FR yields 2.4%.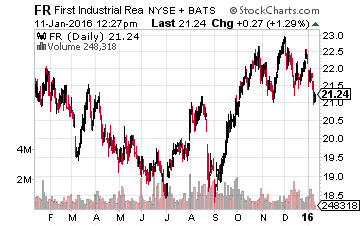 Equity Residential (NYSE: EQR), with a $30 billion market cap, is the largest residential/apartment REITs and one of the largest in the total REIT sector. The current economy has been good for rental rate growth, and Equity Residential has a long history of annual dividend increases. Last year the quarterly rate was boosted by 10.5%. For the first nine months of 2015, normalized FFO per share was up 10.3% compared to a year earlier. It appears that another 10% increase this year is in the cards. EQR announces the new dividend rate in early February with a late March record date and early April pay date. The stock currently yields 2.75%.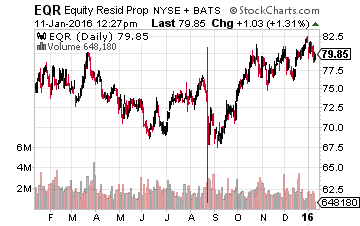 Essex Property Trust Inc. (NYSE: ESS) is also a large cap ($16 billion market value) residential/apartment REIT. Last year the ESS dividend was increased by 10.8%. For the first nine months of 2015, ESS produced better cash flow growth than its larger competitor, EQR. For the three quarters in 2015 core FFO per share was up 14.5% compared to a year earlier. A minimum of a 10% dividend increase should happen for the 2016 first quarter. The new dividend rate is typically declared in late February with an end of March record date and mid-April payment. Through 2015 ESS has increased its dividend for 21 consecutive years. The stock yields 2.44%.