4000 Points – A Historic Week For The S&P 500
Just before Easter Weekend, the investors at the New York Stock Exchange stayed optimistic. Driven by positive expectations towards the economy, they especially tackled tech stocks which have struggled lately due to rising interest rates. With the rising tech sector's support, the S&P500 outperformed the Dow Jones by 1.3%, reaching 4026 points. On a weekly basis, the profit was even at 2.2%, plus reaching the historical mark of 4000 points for the first time in its history.
Image Source: Pixabay
However, the two main pillars on which the current surge is based are the faith in a speedy vaccination process to overcome the pandemic and the American president Joe Biden's comprehensive stimulus packages. In addition to that, the optimism was further pushed by positive conjunctural signals. The ISM-Index reached its highest point in over 37 years. All this supports our expectation that the North American economy will literally boom in 2021, thus, also pushing the indices to new all-time highs.
If we take a moment to reflect on historic achievement, the rapid upward movement by the S&P500 has overcome the pessimism after the crash in 2020, countless lockdown measures, virus mutations, a presidential election, and Brexit, and many other developments. In hindsight, these factors did not have any lasting effects on the index and were flattened out faster than most thought.
All the great news aside, the index still has not reached its goal. We expect a preliminary high in the wave [ii] in red and a correlating correction in our primary scenario. However, if the bulls manage to push the S&P500 over the 4050-point barrier, which has a 40% chance due to the current explosiveness, then we will directly push for 4300 points. It can be said that the rocket is ready to launch! If the index remains under the 4050-point barrier, then we will still experience a correction.
(Click on image to enlarge)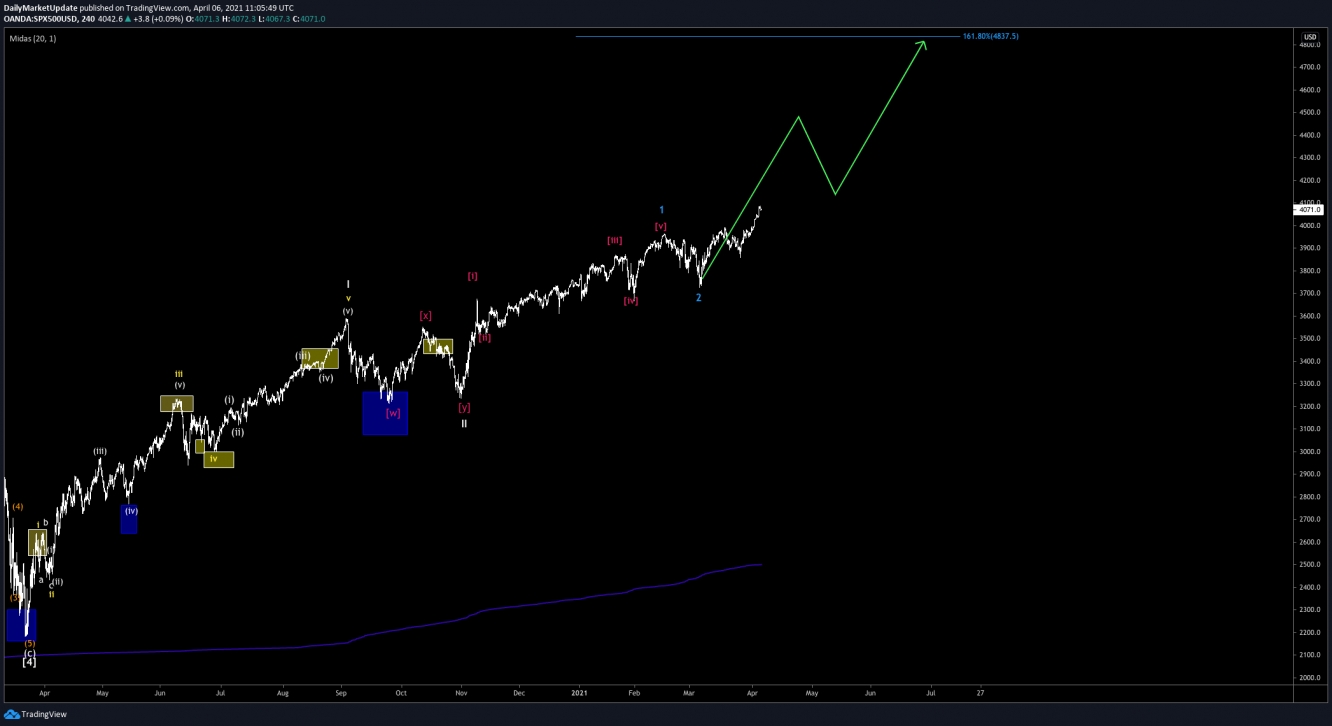 (Click on image to enlarge)