4 Post-Sell-Off Bargain Stocks In Biotech
Next up is Clovis Oncology (NASDAQ: CLVS) which is down some $20.00 a share from its recent highs two months and now goes for just over $70.00 a share. The company should be providing an update on its main drug candidate "rociletinib" at the World Lung conference from September 6th through the 9th, rociletinib could gain FDA approval and launch commercially over the next few months. In addition Phase II trial results for its compound "lucitanib" for breast cancer should be out by the end of 2015. Both Mizuho and JP Morgan have reiterated their Buy ratings on Clovis this month. Both banks have $103.00 a share price targets on this cancer concern.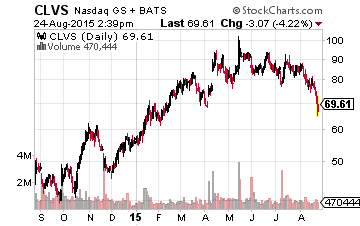 Let's move on OncoMed Pharmaceuticals (NASDAQ: OMED) which is down approximately 20% from highs two months ago. The company is a clinical-stage biotechnology company dedicated to improving cancer treatment by creating novel medicines that address the fundamental biologic pathways critical to tumor initiation, growth, metastases, and recurrence.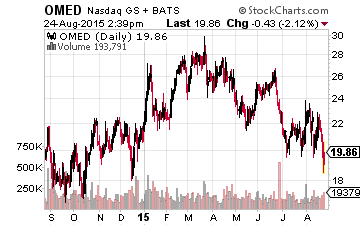 OncoMed is advancing six first-in-class anti-cancer stem cell product candidates in early stage trials and a variety of others in its pre-clinical pipeline. It has collaboration deals in place with Celgene (NASDAQ: CELG), GlaxoSmithKline (NYSE: GSK) and Bayer. The company has several upcoming catalysts before the end of the year. OncoMed Pharmaceuticals has three Phase I trial results coming out in the next few months. The company has some $200 million in cash on its balance sheet, about one-third of its market capitalization. Piper Jaffray and BMO Capital both have $43.00 a share price target on OncoMed that currently goes for just over $20.00 a share.
ZIOPHARM Oncology (NASDAQ: ZIOP) is a small immunotherapy concern I have written about since late last year when it was trading at under $3.00 a share. The stock touched $14.00 a share to start this month, but the sell-off in the market and biotech has brought ZIOP back to around $8.50 a share. The company has a couple of partnerships with larger industry players and its main drug candidate "IL-12" is in one mid-stage study for breast cancer and is in two phase 1 studies — one focused on B-cell malignancies, and the other patients with glioblastoma, an aggressive form of brain cancer.
Disclosure: Long CELG, ZIOP, AMGN, GILD.