3 Price Drivers In A Globalized World
Do you want to know how gold will be doing soon? Or the USDX? You have to look at the German and French economies. You may ask "What? How can they be tied together?" Well, the globalization of markets is one of the core foundations of the modern world. With everything interrelated, nothing in economics can be examined in a vacuum state. That includes the three precious metals price drivers: stocks, yields, and currencies.
The EUR/USD currency pair is a perfect example of this interconnectivity. Being the most popular and most traded currency pair in the world, the EUR/USD is influenced by many factors, including the price action in the USD Index as well as the strength of the European and American economies at any given time. The same level of interconnectedness can be applied to the other price drivers.
Let's take a fundamental look at stocks, yields, and currencies.
As you can see in our Correlation Matrix, the 30-trading-day correlation values are strongly negative in the case of all key parts of the precious metals market (gold, silver, senior miners, junior miners) and the USD Index, while they remain generally positive in case of the link with the stock market. Both links are most visible when we take the 250 trading days into account (effectively about 1 year).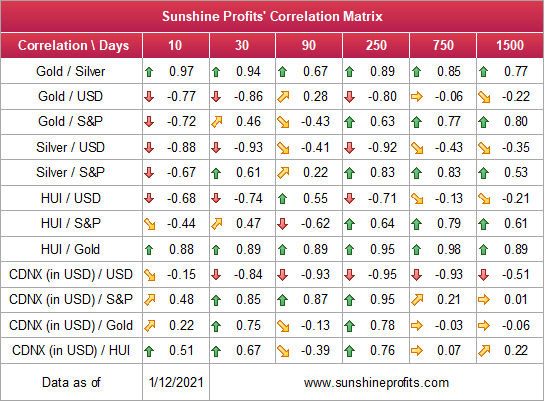 Figure 1
The closer to -1 the number gets, the more negatively correlated given assets are, and the closer to 1 it gets, the stronger the positive correlation. Numbers close to zero imply no correlation.
So, what do these markets tell us about future movements in the price of gold?
Future History
Yesterday, I highlighted the record excess that's building up across U.S. equities. And as we approach the middle of January, investors are giving new meaning to Paul Engemann's Push It to the Limit.
Last week, the S&P 500's option Gamma (21-day moving average) reached the top 0.37% of all-time readings. And on Monday (Jan. 11), the 10-day MA set a new record.
Disclaimer: All essays, research, and information found on the Website represent the analyses and opinions of Mr. Radomski and Sunshine Profits' associates only. As such, it may prove wrong ...
more