2019 Poised To Be Another Strong Year For Buyback Authorizations
2018 has been a record-setting year for buyback announcements. As of December 6th, U.S. companies have announced $969.93 billion in buyback authorizations, the most for any year on record. As we near the $1 trillion mark, there are no signs of slowing down. In fact, data indicates that we may be in for another strong year of buyback authorizations in 2019.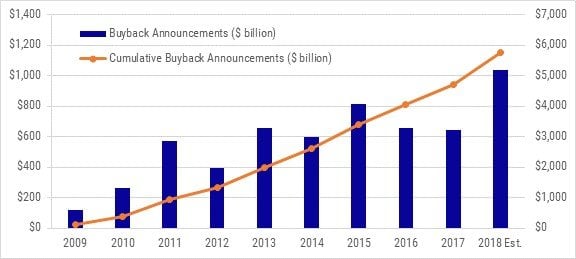 The last set record for buyback authorizations was in 2015, at just over $800 billion. We surpassed that number in October of this year and it is still continuing to accumulate as of this mid-December writing. As such, estimates for 2018 now stand at just over $1 trillion ($1,040 billion). 2018's volume will endure through to the next year for several reasons.
First, the industries buoying buyback announcements this year have significant opportunity for expanded participation in the future. The technology sector, for example, led the way this year with $370 billion in announcements. Historically, tech stocks range from 14% to 30% of the overall year's announcements. But with a more favorable buyback environment driven by tax reform and a steadily improving economy, we're at 38% this year through November. This is also after an unusually slow start in October, and with Q4 on pace for the slowest quarter of the year due to the trade war rhetoric and its potential impact on technology stocks. As more clarity comes to this topic, it could be favorable towards this sector. Even if the trade war concerns drag on, the tailwinds for the technology sector should continue into 2019.
Financials and industrials have also been big drivers of buybacks in Q4. Companies like Wells Fargo for instance, which announced over $20 billion in buyback authorizations, bolstered the total amount of buybacks for the year. Like the technology sector, financials dropped in Q3 this year, only to bounce back this quarter. Industrials, on the other hand, have tracked an upward trend, with no signs of slowing down next year. This is likely driven by the fact that trade war concerns from earlier in the year created more opportunistic buyback opportunities that industrials companies can continue to leverage into next year.