US: Manufacturing Producing The Goods
While we think it is too early to be especially concerned, we do predict that headline inflation will rise above 3% and core inflation above 2.5% in coming quarters as price levels in a vibrant re-opened economy contrast starkly with twelve months before when the stresses of the pandemic saw companies slashing prices to generate demand and cash flow.
For now the Federal Reserve continues to tell us that they don't think they will raise interest rates before 2024, but we feel that this will be increasingly difficult to reconcile with the data. 2023 looks increasingly like the starting point for higher US interest rates.
Construction boom
Meanwhile, construction grew 1% month-on-month in December and November's figure was revised up to show 1.1% MoM growth. A very strong set of figures, led by residential construction given the booming housing market.
Levels of US construction activity
(Click on image to enlarge)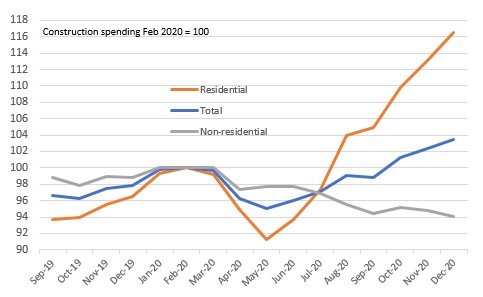 Source: Macrobond, ING
Residential home construction is now up 16.5% on the previous peak seen in February 2020 and is up 28% from the low in May. It is all really in single home construction with six consecutive MoM increases in excess of 4.5%! Apartment construction is much weaker, but is at least positive. Meanwhile, non-residential construction is down 6% from the February peak and will remain lackluster given working from home. Government construction is also going to remain under pressure given state and local government budgets, but with more stimulus proposed that could turn around more quickly than the office sector.
Disclaimer: This publication has been prepared by ING solely for information purposes irrespective of a particular user's means, financial situation or investment objectives. The information ...
more