US: Jobs Shocker
Fed has it right?
The US economy has made great strides since the economic lows of the pandemic in April, by which point 22.4mn people had lost their job. Nearly two-thirds of workers have found employment with the net loss of jobs now "only" 8.2mn. Nonetheless, today's report shows a clear slowdown. Federal Reserve chair Jerome Powell has made it clear that officials want to see a "string" of strong jobs reports before officials will consider shifting their policy stance and so it offers some support to their position that the first rate hike won't come until 2024.
It's all about supply
However, we think labour market softness is more of a supply issue than a demand issue at this point. Overnight we saw the National Federation of Independent Business which highlighted the structural rigidities in the jobs market that could last several months.
It is a survey of the small business sector, which is responsible for half of all jobs in the United States. This survey goes back 48 years and reported the third consecutive new all-time high reading for the number of small businesses that had job openings that they could not fill. 59% of small businesses reported hiring or trying to hire in April, but 92% of those firms reported few or no "qualified" applicants.
NFIB survey shows firms can't find workers
(Click on image to enlarge)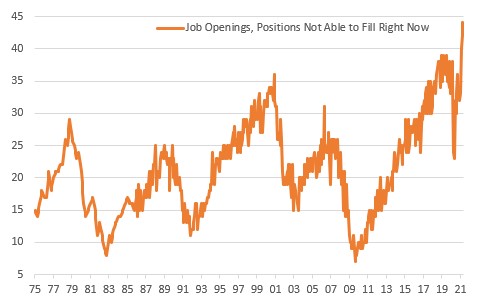 Sources: Macrobond, ING
This tells us that there is huge demand for workers, but it is the lack of supply that will potentially hold back jobs gains in the next few months.
The obvious reasons are ongoing child-care issues surrounding home schooling, which is forcing many parent to stay at home rather than go out to work. Then there are the extended and uprated unemployment benefits that will continue through until September. The extra financial inducement required to attract potential staff may well be putting a strain on companies that have struggled through the pandemic. Nonetheless, the NFIB reported a net 31% of firms reported raising compensation and a net 20% of owners plan to raise compensation in the next three months.
Disclaimer: This publication has been prepared by the Economic and Financial Analysis Division of ING Bank N.V. ("ING") solely for information purposes without regard to any ...
more