US Jobs Market Remains Under Stress
This supply demand mismatch was underscored by last week's JOLTS data (Job openings and labor turnover statistics), which showed there were a record 8.123mn job openings yet only 6mn hires – a huge difference.
NFIB - proportion of companies with vacancies that they are unable to fill (1975-2021)
(Click on image to enlarge)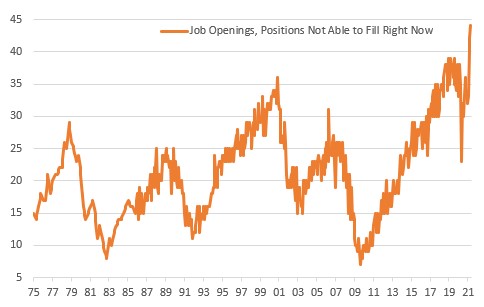 Source: Macrobond, ING
Supply constraints set to persist
The biggest problem in the jobs market does appear to be the lack of supply of workers, which can be attributed to 4 key areas:
Not all schools have returned to in person tuition, meaning many parents that would be going out to work are having to stay home to look after children
Some workers remain nervous about returning to work given the pandemic is not yet over
Some older workers who lost their job may have opted for early retirement
Expanded and uprated unemployment benefits may diminish the attractiveness of seeking work – especially when factoring the cost of commuting and/or childcare
At least two of these four factors should ease in the coming months. Schools will likely re-open fully in September allowing parents to return to work while 21 states have already opted out of the extended unemployment program, meaning payments will soon end. In any case, this program will end in September, which means the loss of the additional $300 weekly Federal payment for all recipients.
We remain hopeful that the rollout of the vaccine program will remain successful and the concerns some workers have will ease, thereby bringing them back into the workforce. We are less optimistic that people who have opted for early retirement will return.
Employment costs to rise further
Nonetheless, this still means we are going to have perhaps three or four months where the labor supply issue remains a major constraint as companies look to re-open and expand. The competition for workers will remain strong with companies having to pay more to both attract and retain the staff they currently have. A good indicator to watch here is the "quit rate" – the proportion of the workforce leaving their current role to work elsewhere. We expect it to rise to a new all-time high versus the current 2.4% figure (currently matching its all-time high).
Disclaimer: This publication has been prepared by the Economic and Financial Analysis Division of ING Bank N.V. ("ING") solely for information purposes without regard to any ...
more