US Jobs Market Remains Under Stress
Jobless claims continue to trend lower as firms look to both hire and retain the staff they currently have. The lack of supply of workers is increasingly becoming a strain on the recovery story and will inevitably add to inflation pressures.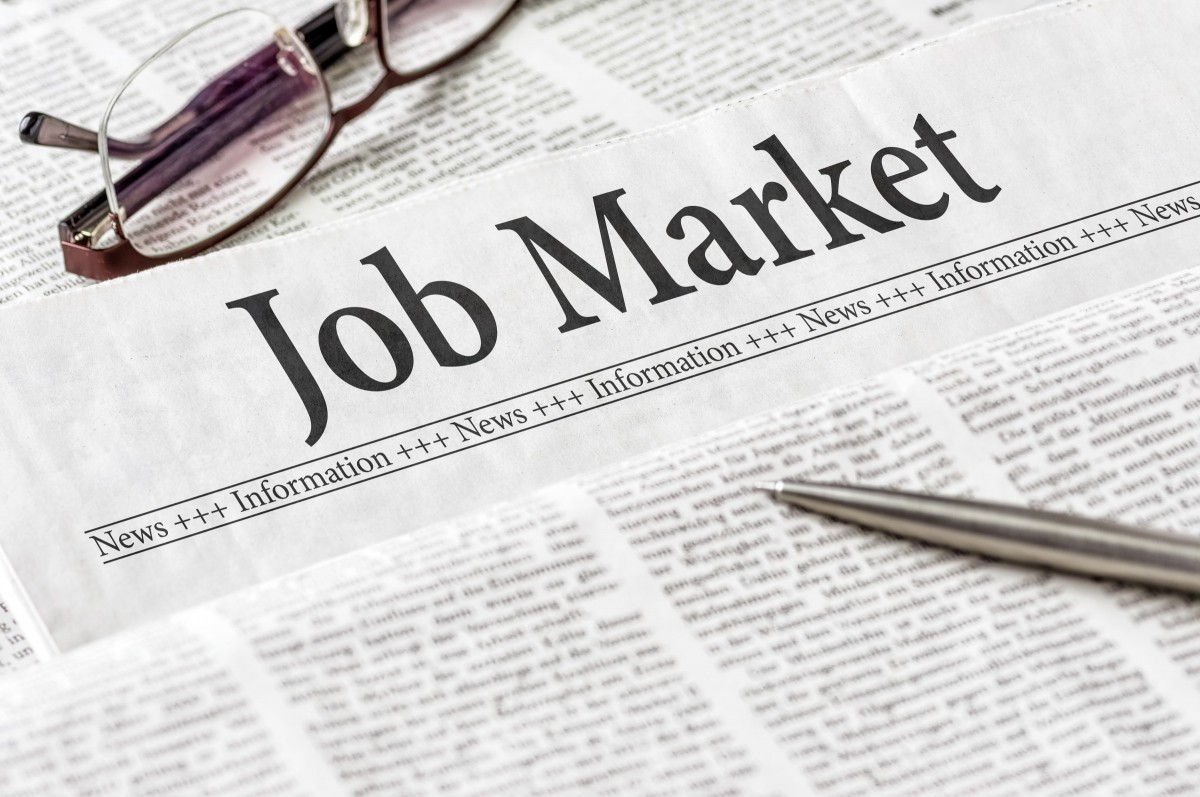 Jobless claims trend lower, but stresses remain
US initial jobless claims continue to edge lower, coming in at 444,000 last week versus 478,0000 the week of May 7th. The consensus had been looking for 450,000 so a modest positive surprise, yet continuing claims actually rose to 3.751mn versus 3.64mn the week before. In a topsy turvy report we also see that the total number of people claiming any form of unemployment benefit fell to 15.976mn from 16.862mn.
This still hints at some ongoing stress, especially when we remember back to pre-pandemic norms when initial claims were typically in the 200,000-250,000 range. Reasons could include some companies re-start and hiring staff, but then find out that they perhaps don't need quite as many employees just yet given demand dynamics.
While it is clear firms are laying off fewer staff in aggregate, actual hiring levels are disappointing. After all, the economy is likely to have fully recovered all the lost output from the pandemic in the current quarter yet employment levels remain 8.2mn lower than February 2020. The April jobs number was particularly disappointing, coming in at 266,000 versus expectations of a million jobs being added.
New jobless claims per week (000s)
(Click on image to enlarge)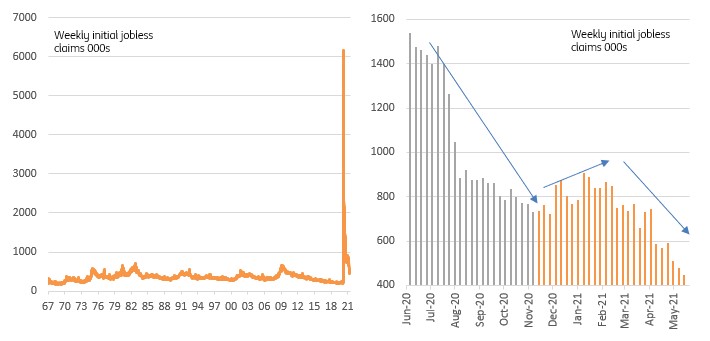 Source: Macrobond, ING
Demand is vastly outstripping supply of workers
Certainly, a different growth composition is a factor that explains this anomaly between activity and jobs. There is more consumer and business spending on physical things (less worker intensive) while consumer services such as leisure and hospitality (more worker intensive) continue to lag. This will re-balance as the economy continues to re-open.
But we cannot get away from the fact that virtually all business surveys suggest companies want to hire but are struggling to do so. The most obvious is the National Federation of Independent Business, which reports that it has never been harder to fill vacancies in the 46 years they have been asking the small business community – 44% of companies have vacancies they cannot fill.
Disclaimer: This publication has been prepared by the Economic and Financial Analysis Division of ING Bank N.V. ("ING") solely for information purposes without regard to any ...
more